Resident Evil: Afterlife
(2010)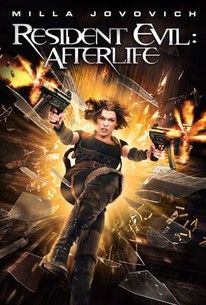 TOMATOMETER
AUDIENCE SCORE
Critic Consensus: As dim-witted and lifeless as its undead antagonists, Resident Evil: Afterlife is a wholly unnecessary addition to the franchise.
Resident Evil: Afterlife Videos
Resident Evil: Afterlife Photos
Movie Info
Experience a new dimension in action horror as director Paul W.S. Anderson uses the 3D technology pioneered by James Cameron and Vincent Pace to take movie lovers on a nightmare thrill-ride. It's been five years since the zombie virus swept across the globe, and Alice (Milla Jovovich) is still traveling tirelessly in search of survivors. When the Umbrella Corporation ratchets up the stakes, an old friend turns up to lend Alice a helping hand. Rumor has it that some survivors have found sanctuary in Los Angeles, but when Alice and friends show up they find the city overrun with zombies, and quickly realize they've stumbled into a diabolical trap. ~ Jason Buchanan, Rovi
News & Interviews for Resident Evil: Afterlife
Critic Reviews for Resident Evil: Afterlife
Audience Reviews for Resident Evil: Afterlife
With probably the most over the top, outlandish, in your face action sequence you've seen for sometime comes the fourth entry of the endless Resi Evil franchise. Now I REALLY am gonna try and not mention a certain Keanu Reeves sci-fi action film involving bullet time too much if possible but its gonna be hard. This outrageously insane kamikaze opening sequence where all the clone Alice's storm the Umbrella Tokyo Headquarters is actually a guilty pleasure I must admit. Its so ridiculously stupid using every cliche in the action film textbook and rips every possible slick visual imagery you can think of from various other action/sc-fi films...yet its great fun. Jovovich/Alice is sleek, sexy and deadly as the clones tear the faceless Umbrella stormtroopers apart with machine guns and katanas. Bloody squibs bursting from the seams, bullet holes, hits to the head by Wesker on his own men at point blank range, beheadings...oh my!! Only one question begs to be answered, where did all those Alice clones get all those identical figure hugging catsuits?? So the drudgery continues as Alice goes from one area to the next battling the undead and watching more and more of hers allies go down one by one. This time she lands her plane on a huge prison in LA, not too sure why she would quite clearly get herself stuck on this prison, let alone almost killing herself and Claire whilst trying to land on the roof. But she does because there are survivors there...but surely anyone would just fly by and find a more secure place? this prison is surrounded by millions of zombies! pfft your funeral. The ensemble cast is actually pretty cool in this, on the same page as the first film although not many famous names. Alongside Alice in this prison we have the token black guy who runs around in a vest so we can see his big muscles, at least he's well spoken. Standard fare sexy brunette who is British (at least she isn't a blonde), the excellent Kim Coates as a slimy film producer (nice touch Mr Anderson), a funny little oriental fellow, standard fare tough guy backup number two called Angel and Wentworth Miller who again is behind bars. To be totally frank this fourth film is completely run of the mill, bog standard stuff in terms of plot. Its simply another setup for Alice to pile drive into with a new team of zombie fodder at her side. The thing is like the first film its still quite an enjoyable ride, its totally predictable, totally cliched and pretty much rehashes the same stuff all over again but in a different location. But thanks to a quirky cast the film is pretty cool I think.  There are still plot questions that hit me, especially as this is now the fourth film. Anyone notice that the Umbrella Company has so many underground bases? also they are VAST underground bases! How and when did they build them?? (under Tokyo??!!), how are Umbrella so rich n powerful? Where on earth do all the Umbrella henchmen come from? how come they are always safe? where do they get all their guns and ammo? how come they are so useless and why would they wanna do their evil job? why does Umbrella carry on playing with the dead when the human race is almost extinct?! and finally not being a game player...who was that huge axe wielding guy? where the heck did he come from? I must also ask why the cities in this franchise are in ruins? the undead are eating everyone not blowing up buildings, so why are they all stripped down to their structures and burnt out? The other main question was why some zombies can now run and have tentacles coming out of their mouths just like the vamps in 'Blade II'. When did this evolution occur? I can't delve deeper for obvious reasons, the film is what it is and we all know this, its Resi Evil, don't question that. The film does deliver in my opinion, it gives you what you expect with some decent visuals and good close quarter action. The finale against Wesker is just as insanely Matrix-like as the opening sequence and just as mind bogglingly daft, maybe more so. The rock soundtrack in the background means its officially cool, its official. You do feel the tension in these films when the heat is on and its time to escape from somewhere. The fact Alice isn't a superhero this time boosts the film giving a sense of uncertainty for once, even though you know she still won't die, still helps.
Phil Hubbs
Super Reviewer
½
Fourth part in the Resident Evil franchise really doesn't do anything new or refreshing to the series to expand the franchise into new territory. Afterlife is a more of the same like previous entries, but it has a weaker and silly plot much like Resident Evil: Apocalypse. Despite this, I didn't hate it as much, but I still felt like something lacked considering that Extinction was such a good third movie. I enjoyed the action scenes, but I also thought that it relied more on effects this time around, even more so than other films in the series, and that says something. There's a decent cast here, and though there are no memorable performances, each actor brings something decent on-screen to make them stand out. As usual, the one who steals the show is Milla Jovovich and she's good as always in the role of Alice. Plot wise, this one is predictable and we know how it's going to turn out. For a fourth film, this isn't such a bad movie, but it's not great either. I think that the filmmakers could have made a far better film, but it's clear that Resident Evil worked better as a trilogy and no fourth film was needed. This is just another attempt at the studios trying to make money off a movie where so many ideas are underdeveloped and leave a lot to be desired. As it stands, Resident Evil: Afterlife is decent at best, but it's not a good movie either. When the credits roll, you realize that the film's saving grace was the action scenes, and even then, they were a bit ridiculous, even by this series standards. Don't expect anything good, but expect something mildly entertaining and you may not be disappointed. However no matter how you cut it, Resident Evil is a series that overstayed its welcome and the lack of effective ideas shows just that.
At this point, this is the best film in the franchise so far and by the looks of it, it just gets better. Director, Paul W.S Anderson has crafted an extremely well-done thrill-ride loaded with heart-pounding action and explosive suspense from beginning to end. A jaw-dropping and spectacular movie that's a pure adrenaline-rush that you just cant get enough of. An exhilarating action-packed horror ride that blows you away. It's bold, bloody and ever so cool in it's style. This movie just flat-out kicks ass all over the place and has a great ending that only promises another awesome adaptation. MIllia Jovovich and Ali Larter are back with strong portrayals as well as being incredibly demanding as the lead heroes of the film. Wentworth Miller is terrific in his debut to the series as Chris Redfield as well as Shawn Roberts as Albert Wesker giving a chillingly cool performance.
Resident Evil: Afterlife Quotes
| | |
| --- | --- |
| Chris Redfield: | There's another two floors down there. |
| Alice: | And how far down is the armory? |
| Chris Redfield: | All the way. |
| | |
| --- | --- |
| Albert Wesker: | Well, isn't this one big family reunion? Chris and Claire Redfield. You've really become quite an inconvienence for me. |
| Alice: | I told you I'd be bringing a few friends. |
| Albert Wesker: | [Takes off sunglasses to show his dark red eyes and smiles evilly] You should have brought more. |
| Albert Wesker: | [takes off sunglasses to show his dark red eyes and smiles evilly] You should have brought more. |
| | |
| --- | --- |
| Alice: | I'll told you I'm gonna bringing few friends |