Restless
(2011)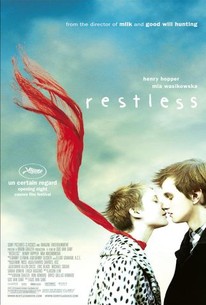 TOMATOMETER
AUDIENCE SCORE
Critic Consensus: Mia Wasikowska puts in a nuanced performance but nobody else, actors and directors included, are capable of finding a compelling angle beneath the twee veneer.
Movie Info
Annabel Cotton (Mia Wasikowska) is a beautiful and charming terminal cancer patient with a deep felt love of life and the natural world. Enoch Brae (Henry Hopper) is a young man who has dropped out of the business of living, after an accident claimed the life of his parents. When these two outsiders chance to meet at a funeral, they find an unexpected common ground in their unique experiences of the world. For Enoch, it includes his best friend Hiroshi (Ryo Kase) who happens to be the ghost of a Kamikaze fighter pilot. For Annabel, it involves an admiration of Charles Darwin and an interest in how other creatures live. Upon learning of Annabel's imminent early passing, Enoch offers to help her face her last days with an irreverent abandon, tempting fate, tradition and even death itself. As their unique love for each other grows, so do the realities of the world that they have felt closing in on them. Daring, childlike, and distinctly rare - these two bravely face what life has in store for them. Fighting pain, anger and loss with youth, playfulness and originality, these two misfits turn the tables on life and play by their own rules. Their journey begins to collide with the unstoppable march of time, as the natural cycle of life comes to claim Annabel. -- (C) Sony Classics
News & Interviews for Restless
Critic Reviews for Restless
Audience Reviews for Restless
½
A detestable and irritating indie film full of indie clichés from beginning to end, and it seems to exist only to test the viewer's patience and ability to endure a protagonist who is so selfish, immature, ill-mannered and obnoxious amid conflicts that are all artificial and ridiculous.
Carlos Magalhães
Super Reviewer
½
This is basically a contemporary take on Harold and Maude. For that reason, I was rather hesitant to see this, mostly because Harold and Maude is an amazing film, and one that really struck a chord with me. I kept an open mind though, and, while this film is similar to that one, it ultimately stands on its own. This is the story of a quirky romance, as shown through the lens of the talented and versatile Gus Van Sant. Enoch is a sullen and troubled lad whose 'hobby' as it were, is to crash funerals, whether he knows the deceased or not. He also spends a lot of time with Hiroshi- the ghost of a Kamikaze pilot who may or may not be just a figment of Enoch's imagination. At one of his many funeral crashings, Enoch has a meet cute with Annabel- a young woman ho loves nature, and like Enoch, spending time among the dead. Thinking she just works at a ward for 'kids with cancer', he comes to find out that she is instead a patient, suffering with a terminal brain tumor. Knowing she doesn't have much time, the two try to make the most of their blossoming relationship, with her getting some much needed understanding, and him learning that life doesn't have to be a gloomy as he thinks it is. This is a very sweet and poignant film. Thankfully, it rarely gets too sappy and schmaltzy. Even the quirkier elements like Hiroshi, are handled in a fairly realistic manner, despite how unrealistic it might seem. The film is also pretty solid with the characters and story, though there are a few plot points that don't really go anywhere and could have been handled better (namely the Halloween bully confrontation). Danny Elfman provides a solid, atypical (for him) score, Van Sant provides some good direction, and the lead performances by Henry (son of Dennis) Hopper and Mia Wasikowska are great. Ryo Kase is also quite good as Hiroshi, and even though it is odd, I like the idea of Enoch being friends with a Kamikaze pilot. Give this one a shot. It's a nice, well done indie film, and makes for a great date night watch.
Chris Weber
Super Reviewer
Nicely acted and looks great. Mia Wasikowska is outstanding here. Story is a little slow, probably the worst thing I could say. I can see why some would not like it at all as its not the most cheerful topic, and some of it is a little pretentious. Though I enjoyed it, mostly the performances, it would not be a movie I would rush to watch again.
Nicki Marie
Super Reviewer
Restless Quotes
| | |
| --- | --- |
| Hiroshi: | I see now that death is easy. It is love that is hard. |
| | |
| --- | --- |
| Annabel: | People haven't been around even a fraction of the time of some reptiles, so three months is almost the same as three centuries or three days... |
| | |
| --- | --- |
| Hiroshi: | White people. You have to grab everything. |
| | |
| --- | --- |
| Enoch: | '' We have so little time to say the things we mean. '' |
| Enoch: | We have so little time to say the things we mean. |