Restrepo
(2010)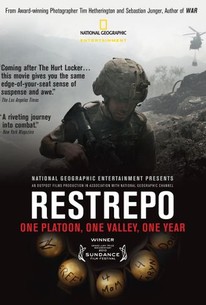 TOMATOMETER
AUDIENCE SCORE
Critic Consensus: Forsaking narrative structure for pure visceral power, Restrepo plunges viewers into the experiences of soldiers on the front lines of the Afghan War.
Movie Info
It is fairly extraordinary that this film exists. The level of access attained by Tim Hetherington and Sebastian Junger over their 15-month period embedded with the Second Platoon, Battle Company, 173rd Airborne Brigade allows for an incredibly unvarnished account -- including footage of deaths both civilian and military. It's perhaps the most intimate and unflinching examination yet of the processes of modern warfare -- and an exhilarating, heartrending, profoundly moving film in its own right.
News & Interviews for Restrepo
Critic Reviews for Restrepo
Audience Reviews for Restrepo
½
War documentaries aren't all that new, since news reels have been played in the beginning of penny shows at the start of the twenties, but this is so obtuse and discomforting. It's of this time, it revolves around people that are close to our hearts, and more horrifying they have been there for a long time. Journalist Sebastian Junger and filmmaking partner Tim Hetherington spent years shadowing a platoon in the infamous Korengal Valley, one of the most dangerous places in any war zone. Surrounded by the enemy at all times, the men go through a spectrum of attacks and retribution just to seize this bit of territory from Al-Qaeda and the Taliban, and possibly kill the men who killed their own. Their squad leader, barely distinguishable from his young squadron, tries to find common ground with the local sages, but time and again cultural barriers turn the tides, including the death of a cow in their fencing. The platoon early on loses a medic named Restrepo, who they name their Observational Point after. Building the OP in itself is difficult thanks to the frequent firefights that come with the cursing of broken down soldiers. More than one time the soldiers are seen in the outpost firing at some unseen entity, cursing and cajoling their fellow soldiers into action. They do joke around quite a bit as well, and turn to one another for comfort through humor at the worst of times but most of the time it's all grief, travesty, and horror. At one point in the film a solider is cut down by gunfire and a fellow soldier cries out in horror for a long while as the others try to get him to keep fighting. Their leader bucks them up, and turns the unseen forces around them into an enemy based on the hatred the soldiers feel at losing their friends. It becomes an unending cycle, and by the end you're happy that they have gotten out, as unnerving and traumatic as it was for them. Very well put together, edited, and composed, this is a true look at the state of Afghanistan's relations with US soldiers and the situation there. This is more about relations than the horrors of war, which are all the more impactful thanks to soldier's interviews with the directors afterwards. It's just a riveting watch, for anyone out there limiting themselves on the debate of the war.
Spencer S.
Super Reviewer
Restrepo is a visceral, powerful documentary on the war in Afghanistan, but I found it to be way over-hyped. It wasn't as powerful or as war-like as I expected it to be, but that put aside, I felt that the film did a good job of documenting the terror, and the camaraderie that these people felt. Beautifully shot, well edited, insightful and exciting, Restrepo is one of the better war documentaries.
Raymond Wieser
Super Reviewer
This was an excellent documentary that gives an inside look at the war in Iraq. This documentary has everything including the firefights of war, losing teammates, being away from family, etc. It gives a lot of good insight about what the soldiers do there, why they are there, and how dangerous it really is to be over in Iraq. This documentary was really scary and heartbreaking. The fallen teammates' stories were really sad and depressing. The fact that the soldiers saw their teammates die/get injured then were able to keep fighting really shows how strong they are. This documentary is a good tribute to Restrepo and I literally almost cried at the end. It was so sad. This documentary is by far the best I have ever seen. It's all true and it's right there in the action- in the most dangerous post in Afghanistan. This documentary does a fantastic job at showing the other side of the Iraqi war.
Restrepo Quotes
There are no approved quotes yet for this movie.