Results
(2015)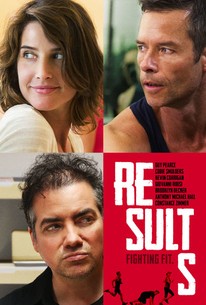 TOMATOMETER
AUDIENCE SCORE
Critic Consensus: Results moves stubbornly at its own deliberate pace, but the well-chosen cast -- and writer-director Andrew Bujalski's insightful observations -- offer rich rewards for patient viewers.
Movie Info
Recently divorced, newly rich, and utterly miserable, Danny (Kevin Corrigan) would seem to be the perfect test subject for a definitive look at the relationship between money and happiness. Danny's well-funded ennui is interrupted by a momentous trip to the local gym, where he meets self-styled guru/owner Trevor (Guy Pearce) and irresistibly acerbic trainer Kat (Cobie Smulders). Soon, their three lives are inextricably knotted, both professionally and personally. Writer/director Andrew Bujalski (Computer Chess, 2013) returns with a fun, intimate fable that's utterly grounded in real life. As wrinkles turn into complications, then blow up into full-fledged issues, the talented ensemble keeps the pensive tone light and the complex plot breezy. The end result is a charming shaggy-dog tale that's been hitting the gym: taut, limber, and powerful.(C) Magnolia
News & Interviews for Results
Critic Reviews for Results
Audience Reviews for Results
½
Endearingly weird mumblecore-ish dramedy with a trio of great performances (Cobie Smulders is especially luminous).
Daniel Parsons
Super Reviewer
Works as a romantic drama so don't expect lots of comedy here. Guy Pearce is really great in the lead role, his character is desperately flawed with self meditation and can't show real emotions. The film drags alot and Corrington is under used but the film works and is well acted. Another great indie surprise for 2016
Brendan O'Connor
Super Reviewer
A rich man employs a personal trainer whose complex relationship with her boss thwarts his affections. The plot of this film unfolds slowly, and the characters' motivations are muddy. None has a clear, consistent objective that s/he pursues throughout the film, and while these shifting objectives might add to the film's verisimilitude, there isn't a strong enough narrative hand to guide the audience through the film's shifts. When the plot all begins to resolve, one story ends predictably, and the other resolution is so slap-dash that I couldn't believe the film would really end on that note. I suspect that all of the performances were directed to be subtext-driven, but if it's trying to be a rom-com, then I think stifling the natural energy of Cobie Smulders and Guy Pearce was a mistake. Their performances were like looking at a light through a dark curtain. Overall, the result of Results is less than its ambitions.
Jim Hunter
Super Reviewer
Results Quotes
There are no approved quotes yet for this movie.