The Resurrected
(1991)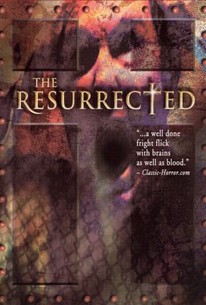 Movie Info
This low-budget film from Alien scriptwriter Dan O'Bannon (his first film since the 1985 zombie hit Return of the Living Dead) is one of the more loyal adaptations of fantasy author H.P. Lovecraft, taking as its source the short story The Case of Charles Dexter Ward. Set in Lovecraft's home town of Providence, Rhode Island, the story involves the investigations of hard-boiled private eye John Marsh (John Terry) into the mysterious activities of Charles Dexter Ward (Chris Sarandon). It seems that Ward is becoming increasingly obsessed with the occult practices of his distant ancestor Joseph Curwen (also played by Sarandon) who was reputed to have found the secret of resurrecting the dead. Much to the horror of his wife Claire (Jane Sibbett), Ward is slowly being possessed by Curwen's malevolent spirit, and he is compelled to perform horrible experiments on the locals in pursuit of his goal.
Critic Reviews for The Resurrected
Audience Reviews for The Resurrected
Hard to find adaptation of Lovecraft's Case of Charles Dexter Ward, with something of a noir twist (if I'm remembering correctly).
The Resurrected Quotes
There are no approved quotes yet for this movie.