Return from Witch Mountain
(1978)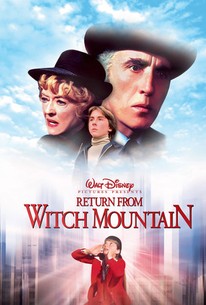 Return from Witch Mountain Photos
Movie Info
Disney sequel about two children with supernatural powers who are used by evil-minded adults. Bette Davis, Christopher Lee, Kim Richard, Ike Eisenmann. Dazzler: Christian Juttner. Yokomoto: Jack Soo. Eddie: Dick Bakalyan. John Hough directed.
Critic Reviews for Return from Witch Mountain
Audience Reviews for Return from Witch Mountain
Tony and Tia are back for more fantastical adventures in Return From Witch Mountain. While visiting Pasadena Tony is abducted and brainwashed by a scientist in order to use his telepathic powers for evil, meanwhile his sister Tia befriends a local street gang who offer to help her find her brother. Christopher Lee and Bette Davis co-star and make for an interesting pair of villains. Additionally, the film is fairly good at creating stakes and bringing an element of danger to the telepathic powers. Fun and exciting, Return From Witch Mountain is an impressive sequel that's better than the original.
Dann Michalski
Super Reviewer
½
Bette Davis and Christopher Lee are respectable in their performances as the villains, Davis representing the evil of wealth and Lee the evil of science. Classic Disney villains who don't believe in childlike values of magic and innocence and just being plain nice. Disney was trying to be more tough and urban in this picture by having youth street gangs battling for their turf. One gang of four younger boys who haven't established themselves as the top dogs in their neighborhood because they're still scared of their mothers yelling at them, they still sometimes go to school, and they're just pretty dorky, befriend the alien girl Tia. All the scenes with the children, which is most of the movie, are full of awful dialog and stiff performances. The plot of the movie involves Tia searching for her brother Tony who has been captured by Davis and Lee and is having his mind controlled for their evil purposes. The only other major adult character besides Davis and Lee's henchman is an Oriental man who the kids derogatorily call Yo-Yo. The character's real name is Mr. Yokomoto, but no, I guess that's too hard to pronounce, or it's another bad example of Disney trying to make the kids sound tough like they're from the street and don't care what adults think. Anyways Mr. Yokomoto drives a van from the Education Department around town looking to pick up delinquent kids and the actor delivers a couple really corny after-school-special kind of monologues about kids staying in school. I'm all for kids staying in school, but this is not the way to deliver the message or fix the problem.
Byron Brubaker
Super Reviewer
½
A sequel from Escape to Witch Mountain is an okay family film, but weak Disney. Christopher Lee and Bette Davis' performances were average so are the special effects. I can't wait to see the new reimagining of Witch Mountain starring Dwayne Johnson this year.
Dean McKenna
Super Reviewer
Return from Witch Mountain Quotes