The Return of Frank James
(1940)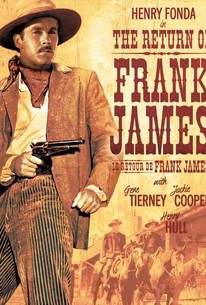 The Return of Frank James Photos
Movie Info
This Technicolor sequel to 1939's Jesse James does without the services of the earlier film's star Tyrone Power, who after all was shot dead by that "dirty little coward" Bob Ford (John Carradine). Repeating his portrayal of western outlaw Frank James, Henry Fonda is promoted to top billing here. As depicted by scenarist Sam Hellman, Frank has retired from his life of crime to become a peaceful farmer, though he has never given up his search for the treacherous Ford. The killer and his cohorts are eventually rounded up, but are pardoned due to political intervention. That's when Frank slaps on six-guns once more to seek his own form of justice. Featured in the cast is Henry Hull as a top-of-his-lungs crusading newspaperman and Jackie Cooper as a headstrong young sprout who pays the ultimate price for his bullheadedness. Making her screen debut is Gene Tierney, in the role of an Eastern reporter who wants to tell Frank's true story to the world.
Critic Reviews for The Return of Frank James
Audience Reviews for The Return of Frank James
½
Average western, sequel to "Jesse James" with none of Lang's more familiar mood touches. Still not bad with Fonda strong in the lead. Gene Tierney is very green, lovely but a bit stiff and missing the sense of concealed hysteria under the placid exterior that the years and tragedy would bring to her best work.
½
A Fritz Lang Western sounds mighty strange, but it is good.
Anthony Valletta
Super Reviewer
½
This sequel to the 1939 Jesse James sees his brother Frank hunting down those responsible for his death. And I must say I've never seen such a bloodless warpath. We are are used to the way films can romanticise outlaws, but this one really takes the cake; Henry Fonda's Frank makes Robin Hood look like Charles Manson! The only crime he commits is a robbery (for very good reasons of course) and the of the men he is hunting, one (or rather the most unconvincing dummy in cinematic history!) falls off a cliff and the other dies before he gets a chance to shoot him. For most of the film Frank is far more interested in romancing Gene Tierney than revenge (although who could blame him for that...) Fritz Lang is clearly not comfortable with this genre; it all feels very static and the wishy washy technicolor does not suit his visual style. But it is the overly simplistic script that is by far the biggest handicap of this film. It's kept watchable by the amiable cast, but it's hardly the finest moment of anyone involved.
The Return of Frank James Quotes
There are no approved quotes yet for this movie.