The Return of the Living Dead
(1985)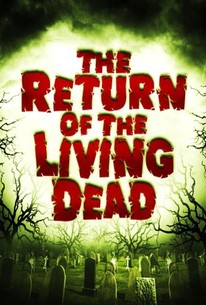 TOMATOMETER
AUDIENCE SCORE
Critic Consensus: A punk take on the zombie genre, The Return of the Living Dead injects a healthy dose of '80s silliness to the flesh-consuming.
The Return of the Living Dead Photos
Movie Info
When a mysterious military chemical gets into the atmosphere it ends up soaking into a cemetery down in bayou land and the bodies are brought to life. It seems that after their healthy snoozes, these creeps have developed quite an appetite, but not for just any old food. These hungry zombies want human brains!
Critic Reviews for The Return of the Living Dead
Audience Reviews for The Return of the Living Dead
Dan O'Bannon piggybacks on George Romero's "Living Dead" series, adding a few different twists to the mix that manages to refresh the genre while keeping the spirit of the proceedings, er, alive. If brain-eating zombie thrills spin your motor round then here is a good bet as Dan-o's cast slowly descend into out-of-your-mind panic and fear. A Halloween necessity.
Kevin M. Williams
Super Reviewer
½
The first and probably the best of the 'Return' horror comedies depending on your opinion of course (although the second is pretty good). I think most would agree the special effects and makeup do look the best and the most stickiest in this first one. Plenty of murky atmosphere with misty dank graveyards, being trapped in a single building, the small town being slowly overrun and taken over plus a great twist ending with no survivors which is quite unique. This film unleashes the now classic notion of toxic gas or waste kick starting a zombie outbreak. The all too cheesy notion of some dumb punks messing with some dangerous looking canisters/drums that leak a weird gas/ooze that somehow awakens/reanimates the dead. This is also the film that gave birth to the classic notion of zombies lurching around hankering for brains to munch on, maybe even letting out the odd 'brains!' line. So yes this film is the original hokey zombie popcorn flick that inspired an entire modern pop culture. The main course of this silly film is the terrific makeup and puppetry on display throughout the film. The zombies are on top form as they stagger around with limbs and faces flopping off left right and centre. All are really played well by a large cast of extras who really put a lot of effect into their performances. If you think of 'Thriller' (1983) then you have a good sense of this film basically. Its an extended adult version of 'Thriller' but not quite as good in the makeup and effects department believe it or not. But its clear where the idea came from as a lot of the undead awakening sequences and overall visuals look very similar, a bit of a rip off really. Still this has some great chuckle moments mainly from Karen and Mathews with their little double acts, whilst Calfa actually brings a sense of realism and believable acting to the fold with his performance. His final scene at the very end is actually quite poignant. Definitely one of the best horror comedies of the 80's with a surprising bonus of good acting to boot.
Phil Hubbs
Super Reviewer
I'm still waiting for a zombie film where bathsalts are the cause for the living dead, but I guess we'll have to make due with what we have right now. Return of the Living Dead is a 1985 horror comedy about zombies. Contrary to popular belief, this isn't a sequel to Night of the Lving Dead, though it does pay homage to it in some scenes. The zombies are brought to life after two dumbasses working in a medical warehouse let loose a weird chemical into the air. Now the zombies have risen and it makes for one hell of a fight. The zombies in this film are different from the George Romero zombies in certain aspects. To start, the zombies in this ones crave brains rather than just human flesh. Their appearance is also different, but the special effects and makeup make them look fantastic. Some of the zombies in this one are completely mutilated and look disgusting. It really helps make for some really funny moments in the film. It's something of a comedy as well. A lot of the characters are really funny and memorable and it's partly due to the acting. Every actor in this movie is really good and a solid cast isn't something you come by too often in horror films. I was also surprised at how well written some of the dialogue was. Most horror films usually have average dialogue that isn't really interesting, but this movie doesn't really have its moments where I was bored. There's no contrived build up or forced characters, the movie just feels right. I don't really know how else to put it. This is the type of horror film that can please most anyone. If you like horror comedies, gore, naked chicks, and zombies, this movie will not disappoint you. It's my personal favorite zombie film ever made and I know that there are plenty of other zombie films to be made, but I doubt if they have the charm that this one has. I'd like to make this review longer, but it's one of those films where you just have to see for yourself instead of looking at reviews online.
Tyler Robertson
Super Reviewer
The Return of the Living Dead Quotes
| | |
| --- | --- |
| Radio Corpse: | Come in dispatch. Send more paramedics. |
| | |
| --- | --- |
| Casey: | (talking to Burt) - Mister, don't go in there. See, there's a thing in there. It ripped out the phone. |
| Casey: | (talking to Burt) Mister, don't go in there. See, there's a thing in there. It ripped out the phone. |
| Burt: | There's another phone in the basement. |
| Chuck: | The basement's f**ked! You know what's in the basement? |
| Burt: | What do you mean? |
| Spider: | One of those f**king corpses man. A real ugly one; all black and slimy! |