Return of the Living Dead: Necropolis
(2005)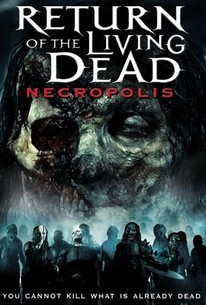 AUDIENCE SCORE
Critic Consensus: No consensus yet.
Return of the Living Dead: Necropolis Photos
Movie Info
A pair of orphaned teens experience an unexpected reunion with their parents in this fourth installment of the long-running Return of the Living Dead franchise. After a traffic accident kills his folks, high-school senior Julian (John Keefe) leads a more or less typical suburban life. Sure, he's a little depressed, and sure, his brother, Jake (Alexandru Geoana), has a problem with matches. But otherwise everything is business as usual. All of that changes when their friend Zeke (Elvin Dandel) is injured in a dirt-bike accident and rushed to the hospital. Although the authorities claim Zeke is dead, he's actually carted off to a secret laboratory by the evil Hybratech corporation, whose scientists plan to experiment on him with a chemical that can reanimate the dead. Unfortunately for Julian and Jake, their uncle Charles (Peter Coyote) is one of the bad guys -- and he's not above using members of his own family as test subjects. With a group of friends in tow, the boys must infiltrate Hybratech's lab, find Zeke, and fend off a horde of angry zombies. Filmed back to back in Romania and Ukraine with Return of the Living Dead 5: Rave to the Grave, Return of the Living Dead 4: Necropolis premiered on the SciFi Channel cable network before receiving a DVD release. Both films were directed by Ellory Elkayem, who previously helmed Eight Legged Freaks.
Critic Reviews for Return of the Living Dead: Necropolis
Audience Reviews for Return of the Living Dead: Necropolis
½
Necropolis...a great name for film title but I'm afraid the franchise has lost its impetus with this next installation. Again naughty people are trying to use the deadly toxic gas to reanimate the dead and use for military weapons but once again it all goes wrong and the undead run amok...oh geez. We are now firmly in B-movie land with this one, the acting is quite terrible from all members including Peter Coyote and the plot is just a rehash against a different backdrop. The only thing going for this is the well done makeup effects which is just as good as the previous films and makes the film better than it deserves to be. These films are all about the cool hands on makeup effects lets be honest, and they all deliver consistently. This is the one thing these sequels manage to pull off despite the fact they rehash everything else. In that aspect they just about hold your attention if you're a monster/gore lover but the rest is usually pants. Nice idea and design for the undead Terminator style soldiers, a small plus point in a sinking film. One has to ask ones self how many more of these can they do? they are clearly trying to utilize every possible backdrop for the zombie outbreaks, I guess a desert setting will be next, haven't seen that yet.
Phil Hubbs
Super Reviewer
½
Complete and utter garbage, Return of the Living Dead: Necropolis is generic horror tripe. The story is idiotic, there's not a decent performance among the cast, and the production values are awful. It's pretty clear that the film is using the title "Return of the Living Dead" in name only, as it doesn't follow the style or continuity of the series. The zombie action isn't that bad, but the story is so pointless that it doesn't really matter. Return of the Living Dead: Necropolis just screams low-budget horror, and on that count it doesn't disappoint.
Dann Michalski
Super Reviewer
After the last one ROTLD 5 sounded bad.In fact it is bad.It is just another recycling of the classic first film.But it seems that the mythos have been trashed this time around.Since when do regular bullets kill the Trioxin Bunch?I can except that in a Romero movie.But seriously this is the ROTLD Series! The Only plus here are the exceptional Make-up EFX.The Zombies looks pretty good and Imaginative.As for the locations you can tell they filmed this in some part eastern European. Action-wise.No one here is really engaging or memorable.Bad Lines.Bland Acting.Recycled characters for a Wes Craven Teenybopper flick.It is fun to watch Peter Cyotoe slum it again for a paycheck.. Not recommend.Even on a minimal entertainment level.
Cassandra Maples
Super Reviewer
Return of the Living Dead: Necropolis Quotes
There are no approved quotes yet for this movie.