The Return of the Native
(1994)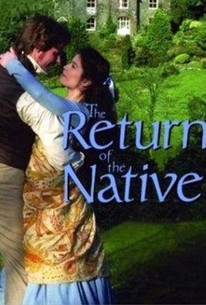 AUDIENCE SCORE
Critic Consensus: No consensus yet.
The Return of the Native Photos
Movie Info
Unlike the barren and forbidding moors elsewhere in England, Return of the Native's Egdon Heath attires itself in vibrant wildflowers, mossy hillsides, winding streams, arching footbridges, and undulant meadows. An enchantress would be at home in this place, but not Eustacia Vye, portrayed by Zeta-Jones. Though coveted by every man in Egdon Heath -- and every boy old enough to stare -- the beautiful Eustacia longs for the smoking chimneys and broad stone buildings of Paris. When a native of Egdon Heath, Clym Yeobright Ray Stevenson, returns from his job in Paris as a jeweler, Vye stuns him with her beauty and marries him in hopes of persuading him to take her to Paris. But, alas, Clym is a clod at heart. He vows to remain in Egdon Heath to teach and edify. After his eyesight deteriorates, Eustacia turns her attentions to rakish Damon Wildeve Clive Owen, and the plot begins to churn and curdle.
Critic Reviews for The Return of the Native
Audience Reviews for The Return of the Native
½
Beautifully photograped poignant version of Hardy novel.
I really thought Catherine Zeta-Jones was Hispanic until I saw this! She really fooled me in Zorro. Who knew she was Welsh? Seriously?
I'm sure people who haven't read the book will like this. Basically, they took the majority of the symbolism from the original novel out, and what they were left with was a shallow historical romance. Accents were atrocious too, and some of the plot was fiddled with if I remember rightly. My English class had great fun ripping the piss out of this film. The sad thing is, I know Zeta-Jones can act, but her talent was mysteriously absent here.
The Return of the Native Quotes
There are no approved quotes yet for this movie.