The Return of the Pink Panther
(1975)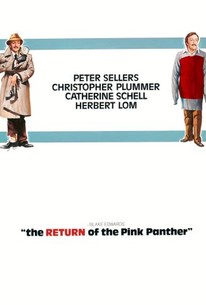 The Return of the Pink Panther Photos
Movie Info
In this sequel, it looks as though wizard cat-burglar Sir Charles Litton is back in business. Dispatched to the Swiss resort town of Gstaad by his long-suffering superior Inspector Dreyfuss, doggedly determined Inspector Clouseau adopts a series of easily-penetrable disguises to get the goods on Sir Charles and his wife.
Critic Reviews for The Return of the Pink Panther
Audience Reviews for The Return of the Pink Panther
A decade after playing Inspector Clouseau in Shot in the Dark Peter Sellers returns along with the Pink Panther in Blake Edwards 1975 film that saw a return to form (sort of) of the Pink Panther films. The Pink Panther diamond has been stolen and the Phantom's trademark glove has been left at the scene of the crime. The government demands that Clouseau, who has been knocked down to a simple patrolman, come to solve the case. The thing is that the real Phantom Sir Charles Litton (Christopher Plummer taking over for David Niven) has been in retirement and did not commit the crime. So as Clouseau bumbles his way through the investigation Litton is also trying to figure out who the fake Phantom is. The plot to Return of the Pink Panther is dull. Very dull. It's basically Plummer's boring search intercut with Peter Sellers being Peter Sellers and Herbert Lom going nuts again. It's probably a good thing that Sellers returned for this film because I can not imagine how boring it would be without his presence. He saves the film from total disaster, but it's still a dry and slow piece that probably could have shaved twenty minutes off. This movie is for Pink Panther completists and Sellers fans only.
Chris Garman
Super Reviewer
½
A pretty fun film in the series.
The Return of the Pink Panther Quotes
There are no approved quotes yet for this movie.