Return to Cabin by the Lake
(2001)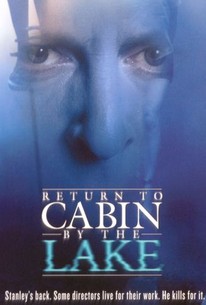 AUDIENCE SCORE
Critic Consensus: No consensus yet.
Movie Info
Most screenwriters fight to protect their creative vision, but one man goes a good bit farther than most in this sequel to the made-for-TV horror flick Cabin by the Lake. Murderous scriptwriter Stanley Caldwell (Judd Nelson) is missing and thought to be dead, but the strange stories of his grisly crimes have made the project he was writing at the time of his death a hot property, and director Mike Helton (Brian Krause) has hired writer Allison Gaddis (Dahlia Salem) to polish Caldwell's rough draft as he prepares to bring Stanley's final work to the big screen. But it turns out Stanley isn't dead after all -- he managed to escape and has gone into hiding, but the news that his work is being tampered with brings him back to the scene of his crimes. Posing as J.C. Reddick, a relative of the producer, Caldwell gets hired as an assistant director on the film, and claiming to have known the late Caldwell, he sets out to reshape the movie so that it reflects his own twisted ideals. Produced for the USA cable network, Return to Cabin by the Lake was first aired on December 15, 2001.
Audience Reviews for Return to Cabin by the Lake
Why would anyone in their right mind make a sequel to the first movie? The operative phrase here is "right mind", because anyone who thought that hideous acting, random slow motion during action sequences and a plot that doesn't actually involve the cabin OR the lake would make for a good movie is crazy. AWESOME.
Drew Smith
Super Reviewer
Return to Cabin by the Lake Quotes
There are no approved quotes yet for this movie.