A Return to Salem's Lot
(1987)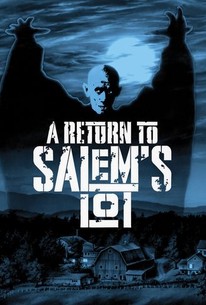 AUDIENCE SCORE
Critic Consensus: No consensus yet.
A Return to Salem's Lot Photos
Movie Info
A divorced dad and son attempt to build on their newly resurrected relationship by heading back to pop's hometown in up-state Maine. When he gets there, he finds that all the townspeople have turned into 300-year-old vampires. Some say that director Larry Cohen intended the vampire community to be a parody of old-blooded Republicans who so often rule in small-town America.
Critic Reviews for A Return to Salem's Lot
Audience Reviews for A Return to Salem's Lot
Darkness rises again in A Return to Salem's Lot, a mediocre sequel to the Stephen King classic. After moving to Salem's Lot to reconnect with his estranged son, noted anthropologist Joe Weber discovers that the town is completely inhabited by vampires, who proceed to coerce him to document their history and culture. The vampire society is interesting in concept, but it's overshadowed by the weak storytelling. And the acting is especially bad, particularly Michael Moriarty. A Return to Salem's Lot has some interesting ideas, but the filmmaking is extremely poor.
Dann Michalski
Super Reviewer
½
The whole thing seemed to be constantly on one median level, with very few shocks. It never really yanks you into the story, and the music is extremely loud and dirge-like, making you feel like you're watching a very tepid documentary made without much thought. An extremely peculiar, rather uninteresting film, a considerable step down from the first film (which wasn't terrific, but was at least exciting!) I think they should have got Tobe Hooper in again - perhaps he was busy. It's very similar in feel to Halloween 4, which was a complete waste of time - there's a feeling that nobody knew what they were doing during the whole creation process, particularly the music composers, who were obviously filling time until they were discovered by Philip Glass.
Cassandra Maples
Super Reviewer
Not as good as the first one.
paganchild1979 pc79
Super Reviewer
A Return to Salem's Lot Quotes
There are no approved quotes yet for this movie.