Return to the Batcave: The Misadventures of Adam and Burt
(2003)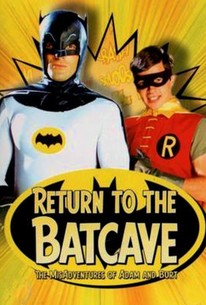 AUDIENCE SCORE
Critic Consensus: No consensus yet.
Movie Info
Holy Thomas Wolfe! The same team responsible for the "retro" TV movie Surviving Gilligan's Island (including executive producer and former Gilligan co-star Dawn Wells) were responsible for this nostalgic hark back to the classic Batman TV series of the late '60s. In rehashing the creation and popularity of Batman, screenwriter Duane Poole draws heavily upon the autobiographies of stars Adam West (Batman) and Burt Ward (Robin, the Boy Wonder) -- with special emphasis on Ward's recollections of the Dynamic Duo's alleged sexual escapades both on and off the set. To avoid a dry recitation of names, dates, and statistics, the producers contrive to "bookend" the flashback sequences with a campy present-day plot line, wherein the 74-year-old Adam West and 56-year-old Burt Ward (as themselves) team up to locate the original Batmobile, which has been stolen from under their very noses at a gala auto show. An unknown enemy of the two actors plants a series of cryptic clues, leading West and Ward on a picturesque journey back to Hollywood, with memorable stopovers at a roadside bar and a restored movie palace along the way. Every so often, the veteran performers pause to remember significant events from their Bat-past (including the adulation of fans, battles with network censors, egotistical flare-ups on the set, and their own marital breakups), while in fine old Batman tradition an unseen narrator (whose identity is sublimely significant to the story line) delivers warnings of impending doom. Also keeping in the spirit of the original series are the bizarre, off-center camera angles, the onomatopoeic "Bam!," "Pow!," and "Zowie!" superimpositions during the fight sequences, the steady stream of inside jokes (including a running gag involving Adam West's notorious stinginess), and the amusing cameo appearances by former "special guest villains": Frank Gorshin, Julie Newmar and Lee Meriwether. A bit of Pirandello wafts into the proceedings as well, whenever either West or Ward cheerily comments on the fact that he realizes he's only acting in a TV movie, or that a commercial break is overdue. Though it strains much too hard for laughs at times, the film at least deserves credit for trying to be different from the usual run of TV biopics. Return to the Batcave: The Misadventures of Adam and Burt made its CBS Bat-bow on March 9, 2003.
Audience Reviews
There are no featured reviews for Return to the Batcave: The Misadventures of Adam and Burt at this time.
Return to the Batcave: The Misadventures of Adam and Burt Quotes
There are no approved quotes yet for this movie.