Return to the Blue Lagoon
(1991)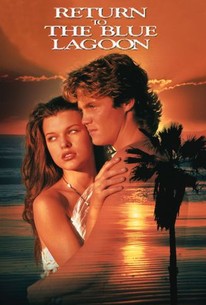 TOMATOMETER
AUDIENCE SCORE
Critic Consensus: Despite its lush tropical scenery and attractive leads, Return to the Blue Lagoon is as ridiculous as its predecessor, and lacks the prurience and unintentional laughs that might make it a guilty pleasure.
Return to the Blue Lagoon Photos
Movie Info
This sequel to the surprise box office hit The Blue Lagoon (1980) mimics its predecessor's romantic adventure formula of a lush tropical locale inhabited by scantily clad, nubile teens discovering their sexuality. Spotted adrift in a boat with his deceased parents Richard and Emmeline, a baby boy is rescued by a passing ship. Adopted by the widow Hargrove (Lisa Pelikan), infant Richard is soon at sea again after he, his new mother and her baby daughter Lilli abandon ship in the face of a cholera epidemic. Washing ashore on the same island populated by the first film's heroes, Hargrove protects and raises her young charges until a disease also claims her life. Years pass and both Richard (Brian Krause) and Lilli (Milla Jovovich) become young adults. While Richard discovers his manhood by racing a lagoon shark and spying on the island's dangerous natives, Lilli becomes a woman with her first period. Eventually their raging hormones lead the two into each other's arms. Marriage and a pregnancy follow, but Richard and Lilli's union is threatened by the arrival of a ship carrying a lovely captain's daughter (Nana Coburn) with eyes for the loincloth-clad Richard.
News & Interviews for Return to the Blue Lagoon
Critic Reviews for Return to the Blue Lagoon
Audience Reviews for Return to the Blue Lagoon
Remember Brooke Shields and Christopher Atkins from The Blue Lagoon well, sadly, they died at sea. But happily their baby boy was saved. trouble is, the boat that rescues him has the plague so, he is set adrift again, this time in the company of a widow and her daughter. They end up stranded on the same island, where the widow raises them, dies and they grow up beautifully as Milla Jovovich and Brian Krause. The two teenagers have to fend for themselves and are soon drooling for each other too...
A sequel that I remember very little of, other than the fact that Milla Jovovich was in it.
Tim Salmons
Super Reviewer
This was really quite atrocious. It seemed to start off okay for a bad follow on to a movie that was probably ill advised to start with. But the minute the kids grew up and became Milla Jovovich and Brian Krause, it was all over. (Admittedly Brian Krause is not that bad, and may even be a slight improvement on the original star, but that's not saying a whole lot). The story totally lost the suspense the original had about who was on the other side of the island, the story is jumbled and unconvincing and don't even get me started on the "bad guys" who may or may not have been intended to be Australian. (As the film was shot here and i could clearly hear the accents, though they were trying not to sound it... I think) Big mess of a film. Milla can't act at all. If you really have to, watch the original instead.
Nicki Marie
Super Reviewer
Return to the Blue Lagoon Quotes
There are no approved quotes yet for this movie.