Revelation
(2002)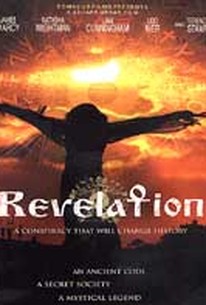 AUDIENCE SCORE
Critic Consensus: No consensus yet.
Movie Info
A relic has been fought over by the forces of light and darkness for two thousand years. Missing for centuries, the sacred artefact turns up in the back of a camper van in 2001. A powerful secret society is slaughtering innocents to get hold of it.To discover and understand the relic, the ancient arts of sacred geometry, astrology and alchemy must be combined with modern cyber skills and cryptography.Billionaire mogul Magnus Martel (TERENCE STAMP) is desperate to find and destroy the relic, reluctantly aided by his estranged son Jake (JAMES D'ARCY), a computer decoding expert, and Mira (NATASHA WIGHTMAN), a student of alchemy.In pursuit is the Grand Master (UDO KIER), a demonic sentinel who has stalked the ages since witnessing Christ's crucifixion, and whose unfaltering quest is to take possession of the Loculus and reclaim its devastating knowledge.The hunt takes the protagonists from Britain to France, Malta and Greece. Their dangerous journey also becomes a voyage of self-discovery and personal fulfilment.And when the secret of the relic is finally revealed, it heralds the crossover of science and religion in the new millennium. -- © 2002 Romulus Films
Critic Reviews for Revelation
There are no critic reviews yet for Revelation. Keep checking Rotten Tomatoes for updates!
Audience Reviews for Revelation
A treasure trail story a little like the Da Vinci Code but with "real magic" thrown in for good measure. This is a very clumsily put together mishmash of ideas with a lousy script, wooden portrayal of 2D characters and some of the most clumsy, in-your-face exposition I've ever seen. I guess the director would claim that the film's failure to explain certain key elements adds to the air of mysticism but it only serves to convince me that he didn't have a clue. I would have marked this turkey even lower but for the pretty locations that abound throughout - that said, I could get more locations and less drivel from a travel show.
The Shrewlord
Super Reviewer
Revelation Quotes
There are no approved quotes yet for this movie.