Revenge
(2018)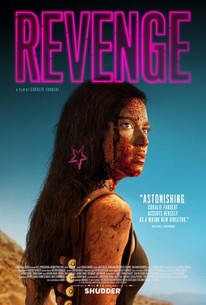 TOMATOMETER
AUDIENCE SCORE
Critic Consensus: Revenge slices and dices genre tropes, working within an exploitation framework while adding a timely -- yet never less than viscerally thrilling -- feminist spin.
Movie Info
Jen (fearlessly embodied by Matilda Lutz, Rings) is enjoying a romantic getaway with her wealthy boyfriend which is suddenly disrupted when his sleazy friends arrive for an unannounced hunting trip. Tension mounts in the house until the situation abruptly--and viciously--intensifies, culminating in a shocking act that leaves Jen left for dead. Unfortunately for her assailants, Jen survives and reemerges with a relentless, wrathful intent: revenge. A white-knuckle tale of transgression and transformation, REVENGE gloriously blurs the lines of vengeance and survival while simultaneously delivering a ferocious dissection of gender and genre.
News & Interviews for Revenge
Critic Reviews for Revenge
Audience Reviews for Revenge
½
We need to talk about this movie's star, Matilda Lutz. In my review of Rings, a terrible soft reboot of the Ring franchise, I mentioned that Matlida Lutz gave one of the worst lead performances I've seen in a long time and I stand by that, she was fucking awful in that movie. But I also pondered as to whether or not that was because the cuts that were chosen weren't exactly the best. Regardless, I don't think that, if you're a good actor, you're gonna suck in one take and be good in the other, unless you purposely try to suck in one of those takes. I mentioned the fact that she starred in this movie, which has been critically acclaimed, and that I reserved judgement on Matilda's talents, or lack thereof, until I saw this movie. So, can you guess which movie I saw yesterday??? I mean, you must be really dumb if you can't figure it out. Anyway, in all honesty, I didn't get much from Matilda out of this movie. Don't misunderstand me, however, she is tremendous at the physicality of this role, and it is one that is incredibly demanding, what I mean is in terms of her delivery of lines. The reason I say this is that Matilda, really, doesn't have that many lines in this movie, so you can't get a sense of how good she is or not at that particular aspect of the game. Overall, however, in the physical side of things, she is tremendous. She is put through quite the ordeal in this movie and Matilda is more than up to the task. With that said, as always, I've always believed that rape is a really tricky subject to explore in films. In many ways, however, I think it's far more difficult to explore in films outside of the exploitation genre, like dramas. You have to walk a fine line between being, umm, well, exploitative and being sensitive and that's a fine line that most movies are not able to walk. The example of Don't Cry, Mommy (a terrible South Korean movie) comes to mind immediately. That movie was so exploitative that, really, the rape was nothing more a way to drive the narrative forward. The person that was raped wasn't really a character, she was just a device to get that girl's mother to take matters into her own hands. However there are movies like Hope (I believe that's what it's called), another South Korean movie, where the rape (of a little girl) is used to tell a story about a father regaining his daughter's trust. There's some melodramatics in this movie as well, but they're not as overbearing as it was in Don't Cry, Mommy. Again, the goal for Hope was to tell that story of the parents rebuilding their daughter's life from scratch and a father desperately hopeful to reconnect with his daughter after a traumatic experience. In exploitation movies, however, that all goes out the window. This, of course, falls under the exploitation genre, but, even then, the film sort of uses the rape as the jumping off point for everything else the movie has to offer. Does that work as a plot device? I guess it does, but it doesn't feel tasteless, which is honestly surprising. Neither here nor there, I suppose. The story sees Jennifer is in a relationship with a married man. They go to his secluded house in the desert for an annual hunting trip. Richard's (the married man) two buddies show up a day before they're supposed to. Long story short, one of Richard's buddies, Stan, ends up raping Jennifer after she rebuffed his advances since, the night prior, Stan felt that she had come on to her due to a provocative dance. There we go with that 'logic' again. Dimitri, the other guy, walks in, watches the rape for a few seconds and the leaves without doing anything. Richard arrives later and he tries to console Jennifer while, at the same time, blaming her for the assault as she is 'too beautiful to resist', I think is what he said. I almost facepalmed my hand through my face. Jennifer runs away after Richard slaps her when she threatened to expose him to his wife, reaching the edge of this cliff. Richard reassures her that everything will be fine, he pretends to call the helicopter that dropped them off to pick her up. Of course, he was lying, he pushes Jen off the cliff and she ends up being impaled on this tree at the bottom. Richard is hopeful that Jen is dead, so they could cover up both the rape and the murder after they're done hunting. You could say that this is when the movie really begins, as Jen is determined to hunt these fuckers down and, hey, who can blame her??? The thing with this type of exploitation movie, that still has some very timely themes (particularly with some morons blaming rape victims), is that it needs to be quite visceral in its depiction of the violence the victim employs on those who assaulted her. Because, otherwise, it feels like somewhat of a ripoff. This movie, however, is anything but a ripoff. The violence, all around, Jen included, is quite extreme. But, at least in the case of Jen hunting down and murdering those that were responsible for her current situation, it needed to be that way, because you need to feel that sense of satisfaction that Jen is meant to feel as she gets rid of the fuckers. If it's not brutal, it sort of feels like the bad guys got off easy. So props to the movie for not shying away and giving us that satisfying payoff to Jen's vengeance. The climactic act, with Jennifer finally going after Richard is tense and intensely gratifying. The thing about the movie is that it is quite artfully directed and the cinematography, with the harsh desert fully displayed, is phenomenal. This is very much an exploitation movie, but it's one arthouse sensibilities and a really cool synth score. With that said, however, it's not like this is a perfect movie. There was something keeping me from giving this the full four stars. I don't know what it was. I do think that there's some issues with the pacing that could have been ironed out. That's probably the only major issue I had. The film's first hour flies by, but it ends up dragging a bit after this point. I was also gonna point out that it was a very decidedly one-note movie, but I can't really complain about that. The film had a clear goal in mind and it worked steadfastly to achieve that goal. In spite of my issues, this is still a damn good movie and one that I would easily recommend, if you know what you're getting into and you're not squeamish.
Jesse Ortega
Super Reviewer
MAD TO THE MAX - My Review of REVENGE (4 Stars) Reminiscent of the stamp George Miller put on action cinema with MAD MAX in 1979, writer-director Coralie Fargeat announces herself with the bloody, exploitative, well-past-midnight movie glory of her feature debut with REVENGE. Although it owes a huge debt to Miller and his over-saturated desert landscapes and his gift for near wordless storytelling, REVENGE tweaks the genre by doubling down on the stuff you shield your eyes from, resulting in longer shots of gore which descends into a literal blood bath. Consider yourself either warned or primed depending on your taste. Set in an unnamed American desert, the film introduces us to Jen (Matilda Anna Ingrid Lutz) as she hops off a helicopter with her boyfriend Richard (Kevin Janssens). In case you haven't figured out that Jen is the Lolita type, she dons sunglasses and sucks on a lollipop. She's a pouty, spoiled LA woman, addicted to her iPhone and used to trading on her sexiness. Richard, a married man, has taken Jen to a hyper-stylized house in the middle of nowhere to have a lot of sex (Pssssst! These two ridiculously attractive specimens get naked a LOT in this film). Of course, trouble comes in the form of two of Richard's friends, Stan and Dimitri, who show up one day with rifles in hand. There to accompany Richard on a hunting trip, they get instantly distracted by Jen, male gazing the shit out of her, which leads to brutal sexual violence. Fargeat understands the fragility of the male ego and exploits it well in deft scenes showing how each of the men feel slighted by a woman who for so long has kept her true power under wraps. She has learned how to subjugate herself to win over men, but now she has to find much deeper inner strength in order to survive when the men leave her for dead. Let me skip back for a second, for when I describe the violence as brutal, I haven't truly explained that the manner in which they leave her isn't for the faint of heart. I won't spoil it here, but impalement and its aftermath play a big part. It's horrific and Fargeat allows a visual reminder of it to stay onscreen for most of the film. As the title implies, Jen then spends the rest of the film trying to stay alive and get back at these three terrible men. We witness the birth of a warrior, perhaps not as assertive as Sigourney Weaver's Ripley or as tormented as Charlize Theron's Imperator Furiosa, but she's a worthy successor. Fargeat forces us to rethink the girly girls of the world, often dismissed for lacking depth and ingenuity, and through Jen gives us cause for celebration. Although some of the dialogue is in French, the subtitle-averse shouldn't worry as this is pure visual filmmaking of the highest order. Cinematographer Robrecht Heyvaert and Editors Jerome Eltabet, Bruno Safar and Fargeat herself make every shot, every transition count. It's cinematic candy until it turns excessively bloody. Shots of glass being pulled out of feet or various mutilations go on for so long as to feel grossly hilarious. There's a great set piece involving a self-made tattoo which you won't soon forget. You can feel Fargeat playing with you, taunting you, and daring you to stare at the screen. Truth be told, with a story as simple as this one, it overstays its welcome with its 108 minute running time. This type of grindhouse thriller should have clocked in at a lean 90 minutes, but it's a minor criticism for something so energetic as this film. Plus, Fargeat has an interesting feminist perspective which puts other exploitation movies to shame. She's playing with the same tool box but applying her unique voice and I imagine I'll be watching her films from behind my hands for a long time to come.
Glenn Gaylord
Super Reviewer
Can you tell a rape-revenge movie from a feminist perspective? The lazy storyteller or analyst would say movies like I Spit on Your Grave are feminist because it involves a wronged woman wrecking righteous vengeance on her almost-assuredly male attackers. However, if you've seen I Spit on your Grave, or its remake, or any genre thriller where rape is treated as the inciting incident, you'll know these movies are hardly feminist. The protagonists typically exist to be objectified, then traumatized, then transformed into sadistic killers. It's not exactly the most nuanced or dignified portraits of sexual violence. French writer/director Coralie Fargeat attempts to give this tired trope a feminist spin with Revenge, a thrilling, grueling, wildly bloody good time. It's a thriller with real bite. Jen (Matilda Lutz) is enjoying a vacation with her boyfriend Richard (Kevin Janssens), who also happens to be a married family man. She's lounging around in a deserted bungalow for Richard's hunting getaway, a regular vacation he shares with his other pals Stan (Vincent Colombe) and Dimitri (Guillaume Bouchede). Jen makes herself at home and Stan, in particular, lusts over her. While Richard is away, Stan attacks and rapes Jen. Richard offers to set her up with a new life in another country but Jen refuses, demanding to go home. She runs off and is pushed off a cliff by Richard. Miraculously, she survives, and from there the three hunters try to track her down and cover up their misdeeds. It's a simple story but Fargeat has an uncommonly sharp command of her craft, knowing what exploitation elements to double down on and when it's best to show restraint. This allows Revenge to unfold with a natural sense of pacing and direction while still achieving a high level of thrills and satisfaction. I appreciated that Jen doesn't suddenly become an expert merchant of death. This isn't like 2013's You're Next (though the final act starts to dip into that film's black comedy of absurdity) where the damsel ends up secretly being a highly-skilled and highly-trained warrior. In Revenge, the self-entitled creeps think they have the upper hand throughout, constantly underestimating the resourcefulness and will power of Jen. Very early in the second act, the three men are on the hunt for Jen, so the movie becomes a cat-and-mouse thriller with each new set piece being its own engrossing mini-movie, adopting varying degrees of tone. There's a lovely A-to-B-to-C sense of progression to the plot as Jen confronts a new set of obstacles, all the while being hunted by three cocky sexual predators. There's great joy in rooting for a worthy underdog and also watching villains robbed of their own joy. Revenge easily taps into our desire to see justice befall some very bad people, and maximum carnage ensues. This is an outstandingly gory movie and the first I can recall in quite some time that genuinely forced me to avert my sight. Fargeat's camera gets you up close and personal to gashes and seeping wounds, enough to see layers of tissue and fat, and her camera lingers on the bodily destruction, forcing us to squirm in discomfort. It's highly effective and miraculously doesn't feel gratuitous. When the camera dwells on Jen's wounds, it's about her perseverance and strength. When the camera dwells on the wounds of the gents, it's about the extent of their outlandish punishment. There is a hallucinogenic series of gonzo, gory kills meant to goose the audience for extra fun, and it had me laughing after the third daffy dream sequence-within-a-dream sequence. The final act ramps up the bloodletting to an almost comic degree. Characters are literally slipping and sliding on the floor from the copious amount of blood spilled. This is a gruesome movie to watch but Fargeat knows what an audience wants to see and squirm over and what they don't. This is typified in how the rape is portrayed. For the beginning of the first act, the camera seems to adopt the perspective of voyeur, often perfectly framing portions of Lutz' body, notably her posterior. The men take turns leering at her but so has the audience at this point. It affects us with the male gaze. Then an increasingly agitated Stan harasses Jen. This uncomfortable sit-down is excruciatingly tense because we're waiting for him to pounce, but it also has an effective power because it illustrates the daily minefield women experience deflecting the unwanted attention and affections of men. She's desperately looking for safe ways out of the conversation that still save the man's ego, a tricky navigation so as to not upset one's toxic masculinity. The ensuring rape happens off screen as the camera leaves the scene with Dimitri who even turns up the TV volume to drown out Jen's panicked screams. For anyone who's sat through these kinds of movies, they often glorify the horror of the rape and can readily cross a line into icky intended titillation. Leaving rape off screen is practically admirable. Revenge is a cut above its genre ilk thanks to its strongly developed suspense sequences. Each set piece or confrontation presents itself in a memorable and different manner, requiring our heroine to use a different set of survival skills. Fargeat has a terrific sense of space, allowing the audience to understand the distances between the two participants. This allows the tension to simmer and boil as directed. Take for instance that bloody finale, which has an extended and very tense portion that revolves around two characters literally chasing one another around a circular hallway trying to get the jump on one another. That sequence doesn't work without crisp editing and a proper sense of space. The director also knows when to draw out a scene with long takes and a wandering camera that makes you nervous about what's going on where we don't see. There are some wonderful moments of anticipatory dread to amplify the suspense. Fargeat's smooth camerawork and sense of pacing allows the suspense to nicely develop, as she draws out the dangers for Jen and finds organic complications per scenario. The actors ably perform their parts and Lutz (Rings) is a future star-in-the-making. A lot of physical acting is required from her and she is highly persuasive in every moment. Her happiness early on is infectious, her discomfort is grueling, and her desperate escapes feel frantic and wild, more a realistic human being fighting for their life than as some slick movie character coasting on a divine sense of cool. Her second half onslaught of titular vengeance still manages to keep the character grounded and mortal; she suffers setbacks and grievous injuries during these fights too, yet she endures. The other gentlemen give strong performances displaying different degrees of toxic masculinity, entitlement, and hapless weaselness when exposed. Stan, who previously had been enjoying his turn as an unpredictable threat in preparation to raping Jen, becomes a big blubbering weakling. Belgian actor Kevin Janssens reminded me a lot of a younger Aaron Eckhart. The movie is certainly elevated a few notches thanks to the actors giving you strong rooting points. Revenge is a grisly, gory, and wild genre movie that will appeal to fans of indie thrillers but also extend behind that loyal clientele. Writer/director Coralie Fargeat demonstrates an innate understanding of not just the genre but the mechanics of suspense as well, engineering and executing terrific suspense sequences while keeping her familiar narrative fresh. I loved her attention to details (not just the gory ones) like the fact that Jen has these pink star earrings for the entire run of her vengeance. Fargeat understands this genre and its audience but also brings an empathetic, feminine perspective to our heroine's awful plight. I was impressed how grounded this movie remained with its characters even as they were losing a blood bank's worth of inventory. Even if you are more on the squeamish side when it comes to blood and gore, I'd recommend Revenge as an above average thriller that only becomes more satisfying in execution. Nate's Grade: B+
Nate Zoebl
Super Reviewer
Revenge Quotes
There are no approved quotes yet for this movie.