Revenge of the Nerds
(1984)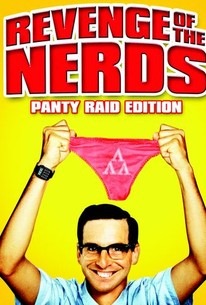 TOMATOMETER
AUDIENCE SCORE
Critic Consensus: Undeniably lowbrow but surprisingly sly, Revenge of the Nerds has enough big laughs to qualify as a minor classic in the slobs-vs.-snobs subgenre.
Revenge of the Nerds Photos
Movie Info
A college fraternity that houses the school's socially awkward, thick-glasses-sporting set decides to exact their revenge on the football players who've repeatedly humiliated them.
News & Interviews for Revenge of the Nerds
Critic Reviews for Revenge of the Nerds
Audience Reviews for Revenge of the Nerds
½
Like other crass comedies of the '80s about freshmen dying to have sex in college, this movie is obviously supposed to be funny, but the problem is that it is only stupid (not hilarious stupid, just stupid), which is a pity considering its nice message against discrimination.
Carlos Magalhães
Super Reviewer
½
During the 80's there have been countless teen comedies that have made their mark. Revenge of the Nerds is a fun and entertaining comedy that has a good plot with effective humor throughout. There are things that could have been improved upon, but overall this is a pleasant comedy that is worth seeing. This is among the better films dealing with college of the 1980's, and it is a film that should be seen if you loved movies like Animal House and Porky's. At times the film does lack, but the characters make it enjoyable to watch and it manages to overcome its flaws due to the interesting characters. Revenge of the Nerds is a good film worth seeing and it is a standout film from the 80's. Although there are some imperfect moments throughout the film, the humor works well enough to keep you interested from start to finish. Animal House is of course the best college comedy, but this film would come in at a close second. There are plenty of good bits here that will surely make you laugh, but I do believe that the film could have used a bit more work in terms of the script, but as a whole it works and this is among the better comedies of this period. This is one of the few college comedies that has some of the most memorable characters and for that, it remains a classic college comedy that will surely entertain you. The cast make it a fun film to watch and it is definitely a fine 80's comedy that will entertain you from start to finish. The story is simple, yet memorable in the long run.
½
As far as raunchy college sex comedies go, I think this one falls somehwere on the higher end of the scale, but just slightly above the average mark. It's a good movie, but it doesn't quite have the intelligence or amazingness to be at the level of true satirical brilliance like Animal House. It's a fun movie though, and deep down, I think we can all relate, maybe not to being full on nerds, but to definitely being picked on at some time or another. I myself fully admit to being a nerd, but I object to being compared to the nerds in this film. If anyrhing, these guys aren't really nerds, but super mega geeks and dweebs. Or they are nerds, but they are the stereptypical kind who give us "somewhat normal" nerds a bad name and reputation. This film tries to add a little depth but having some diatribes on being a minority that could have really been potent, but mostly come off as a litle cheesy and pedictable (but in a okay way). There are some parallels to stuff like Civil Rights, but it's played lightly and, being an 80s comedy, there are some jokes that don't really fly nowadays which kinda undercuts what parallels one might try to pull out of it. God, I'm rambling now, and making more out of this than I probably need to. Basically this is the classic stroy of a bunch of marginalized nerds who finally decide to get revenge on the people who make their lives miserable. There's a lot of good moments, most of them really silly, but some of the jokes are actually pretty smart. The cast is pretty good, and I really liked seeing Bernie Casey, John Goodman, and James Cromwell (credited as Jamie Cromwell lol) show up. All of the nerds are pretty likeable, but I think my favorite is probablyCurtis Armstrong's Booger- the rebellious bad ass of the group. As I said, I don't think this film is really terrific or anything, but it's funny and has a nice knd of charm to it.
Chris Weber
Super Reviewer
Revenge of the Nerds Quotes
| | |
| --- | --- |
| Burke: | Let's get those nerds! |
| Stan: | Nerds! |
| Ogre: | NEEEEERRRRDS! |
| | |
| --- | --- |
| Takashi: | Excuse, please, but why do they call you "Booger"? |
| Takashi: | Excuse, please, but why do they call you 'Booger'? |
| Booger: | [picking his nose] I don't know. |
| | |
| --- | --- |
| Booger: | [Lewis and Gilbert are discussing Gilbert's girlfriend, innocently] - Big deal! Did you get in her pants? |
| Gilbert: | She's not that kind of girl, Booger. |
| Booger: | Why? Does she have a penis? |