Revenge of the Nerds III: The Next Generation
(1992)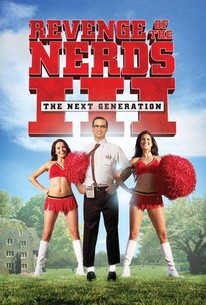 AUDIENCE SCORE
Critic Consensus: No consensus yet.
Revenge of the Nerds III: The Next Generation Photos
Movie Info
In this third version of the Nerds theme, the next generation of Nerd boys have by now taken control of Adams College and one of the college trustees is sick of seeing the geeky nerds running everything so he schemes a plan devoted to the return of jock power. ~ Rovi
News & Interviews for Revenge of the Nerds III: The Next Generation
Audience Reviews for Revenge of the Nerds III: The Next Generation
½
Third film in the series starts showing signs of a series that is quickly going downhill. Two films in my opinion were good, but three? This just goes to show how a once good series is lacking in original ideas. This film is bad and it is an uninspired entry that has no good jokes and when it tries to be funny, it fails and it tries too hard at being humorous, but fails due to the fact that the humor by this point is predictable and recycled. The performances, which in the first two films were fun, are now dull and boring. I thought that this was a poor attempt at delivering a comedy that we've seen many times before. Revenge of the Nerds should only have been a two film series, but the filmmakers made this boring sequel that just fails in terms of delivering effective comedy that should have been funny. This is a film not worth seeing and if you've seen the first two, then you're not missing much watching this. Acting wise, the performances are flat and unfunny and the cast seem bored and work with the same ideas that is disguised into something "new" this comedy just doesn't bring effective laughs and the characters which were enjoyable in the first two films are just dull here. I hated this third film and it really is a bad effort and a poorly constructed comedy that just doesn't have effective gags on-screen. There should have been more effort put into this one, and it might have worked if the script would have been rewritten a few times before they would have begun filming this train wreck.
This was a real drop off from the first too movies. This was not fun to watch at all. I laughed only once and that was when Curtis Armstrong, who playes the part of Booger, first appeared. That was laugh out loud funny, but than it went back to going downhill again. A complete waste of time with a very bad story and the lack of charm that the other two movies had.
Revenge of the Nerds III: The Next Generation Quotes
There are no approved quotes yet for this movie.