The Revenge of the Pink Panther
(1978)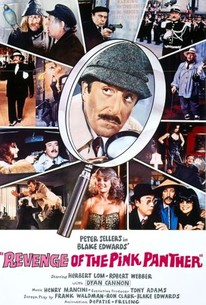 The Revenge of the Pink Panther Videos
The Revenge of the Pink Panther Photos
Movie Info
In Revenge of the Pink Panther, for the final time, the bumbling but impeturbable Inspector Clouseau (Peter Sellers) maddens his long-suffering boss Dreyfus (Herbert Lom), sharpens his wits and martial skills with his manservant Cato (Burt Kwouk) and foils the bad guys without ever having a clue about what he is doing. In the story, Clouseau allows a gang of drug racketeers to believe that he has been assassinated and dons a series of disguises as he travels all over the world in order to apprehend the culprits. He is assisted by Simone Legree (Dyan Cannon), the former girlfriend of the drug-lord Douvier (Robert Webber). Though it received a very mixed reception from critics, this, the sixth of the Pink Panther series, did very well at the box-office. Sadly, it was actor Peter Sellers' final Pink Panther performance before his death in 1980 (the later film, The Trail of Pink Panther was composed of outtakes from previous Pink Panther films).
Critic Reviews for The Revenge of the Pink Panther
Audience Reviews for The Revenge of the Pink Panther
Just when you thought it was safe to go back to the movies!
½
very funny film, just like the other ones.
Thomas Bowler
Super Reviewer
One of the weaker Panther films in the series.
The Revenge of the Pink Panther Quotes
There are no approved quotes yet for this movie.