Revengers Tragedy
(2001)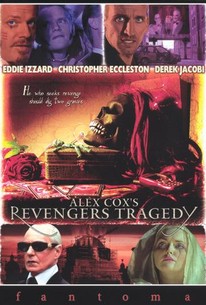 Movie Info
Revenge, obsession, and the morally ambiguous aristocracy are targets of this adaptation by director Alex Cox of the 17th century dark comic play +Revengers Tragedy, written by Shakespeare contemporary Thomas Middleton. The vindictive and mentally unstable Vindici (Christopher Eccleston) has returned to the grimy streets of a post-apocalyptic Liverpool in order to attempt to bring ruin to the ruling family led by the Duke (Derek Jacobi). The Duke was personally responsible for the death of Vindici's fiancée ten years previously when the woman would not yield to the Duke's sexual advances. An opportunity arises for Vindici's vengeance when the Duke's youngest son is accused of raping the wife (Sophie Dahl) of Lord Antonio (Anthony Booth) -- one of the Duke's courtiers. When the Duke's son is acquitted of the rape charges, Lord Antonio's wife dies a mysterious death, which leads to even more havoc in the court of the Duke. Seizing the opportunity, Vindici acts swiftly and violently but the morality of his cause is just as questionable as the aristocracy he is ousting. Revengers Tragedy was a competing film at the 2002 Locarno Film Festival.
Critic Reviews for Revengers Tragedy
Audience Reviews for Revengers Tragedy
[font=Century Gothic][color=darkred]"Revengers Tragedy" is a movie based on the 17th century play by Thomas Middleton. In this version, it is updated to Liverpool in the near future where Vendici(Christopher Eccleston) is returning after a period of absence. He is back to swear vengeance against The Duke(Derek Jacobi, who does not have a lot to do), after he killed Vendici's bride in retaliation for her not wanting to have sex with him.(A good deal of this movie is taken up with men defending the honor of women. I can understand this happening in the 17th century but it's not likely for the present or anytime in the near future.) Other faults include the movie missing chances to have anything to say about 1) the nature of revenge and 2) the class structure.(The Duke is evil but Lord Antonio seems like a pretty alright guy.) But it is imaginatively staged with computer effects and is well acted especially by Christopher Eccleston and Eddie Izzard.[/color][/font] [font=Century Gothic][color=#8b0000][/color][/font] [font=Century Gothic][color=darkslateblue]"Prick Up Your Ears" is based on the lives and tempestual relationship of playwright Joe Orton(Gary Oldman) and Kenneth Halliwell(Alfred Molina). Orton's role in life seemed to be wreaking playful havoc in the straitlaced society of 50's and 60's Britain, from defacing library books to anonymous sex in lavatories. The movie is witty and engaging. It gives great insight into the characters and their love for each other. Both Oldman and Molina do a great job. And it's a joy watching Wallace Shawn and Vanessa Redgrave act together.[/color][/font] [font=Century Gothic][color=darkslateblue][/color][/font] [font=Century Gothic][color=darkslateblue](Very strange literary note: Alfred Molina invokes T.S. Eliot in "Prick Up Your Ears." He would do so again in "Spider Man 2.") [/color][/font]
Revengers Tragedy Quotes
There are no approved quotes yet for this movie.