Revolution #9
(2001)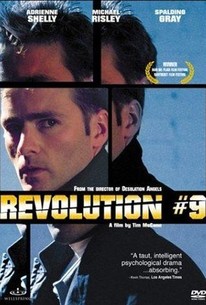 Movie Info
There's an old joke that goes "Just because you're paranoid doesn't mean people aren't out to get you," and this independent thriller puts a new and frightening spin on that notion. Jackson (Michael Risley) has a good job with a computer firm and a solid relationship with his fiancée Kim (Adrienne Shelly), but that begins to change one day when Jackson notices things on his desk aren't where they're supposed to be. Jackson wonders if someone is playing tricks on him when he starts getting vaguely threatening messages in his e-mail, and he sees a television commercial advertising a new fragrance for women, Revolution #9, that he's convinced is filled with messages directed specifically at him. Kim is worried that something is wrong with Jackson, and urges him to see a psychiatrist, but Jackson is convinced that someone is determined to hurt him. After his fears cost him his job, Jackson is diagnosed as suffering from paranoid schizophrenia, but he refuses to believe it, certain that the doctors are in cahoots with whoever has been after him, and he tries to track down Scooter McCrae (Spaulding Gray), the director of the TV spot for Revolution #9, in a bid to find out the truth about what's been happening. Revolution #9 was written and directed by Tim McCann, and premiered (in rough-cut form) at the 2001 Los Angeles Film Festival.
Critic Reviews for Revolution #9
Audience Reviews for Revolution #9
½
This movie was very confusing, and the ending left me asking, "WTF?" It was interesting though, the parts I did understand anyway.
Erin Collins
Super Reviewer
½
better than A Beautiful Mind; depressing but cares about the characters, McCann's great handheld work
Adam Mahler
Super Reviewer
Revolution #9 Quotes
There are no approved quotes yet for this movie.