Revolutionary Road
(2008)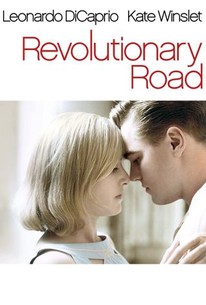 TOMATOMETER
AUDIENCE SCORE
Critic Consensus: Brilliantly acted and emotionally powerful, Revolutionary Road is a handsome adaptation of Richard Yates' celebrated novel.
Revolutionary Road Videos
Revolutionary Road Photos
Movie Info
Titanic shipmates Kathy Bates, Leonardo DiCaprio, and Kate Winslet step onboard for director Sam Mendes' tale of suburban malaise in 1950s-era Connecticut. Adapted from the classic 1961 novel by author Richard Yates, Revolutionary Road tells the tale of a young Connecticut couple whose once-idealistic relationship steadily deteriorates into a ceaseless cycle of petty jealousy and bickering as they strive to retain their independence in the conformity-obsessed world of picket fences and perfectly manicured lawns. Ever since they first met, Frank (DiCaprio) and April (Winslet) saw themselves as special and different. They strive to form their relationship around higher ideals, though upon moving into their new home on Revolutionary Road, the defiant couple pledges never to be confined by the social conventions of the era. As time passes, however, Frank and April gradually become the very thing that they both feared most -- a typical suburban family complete with abandoned dreams and faded hopes. Frank loses his nerve after taking a comfortable job with a reliable salary, and April morphs into an unsatisfied homemaker desperate for passion and excitement. But April's independent spirit hasn't been suffocated just yet, and when she hatches a plan to head for Paris, her need to escape at all costs stands in direct contrast to Frank's desire to hold on to what they already have. ~ Jason Buchanan, Rovi
Critic Reviews for Revolutionary Road
Audience Reviews for Revolutionary Road
A handsomely constructed, quietly devastating film concerning a couple trapped in a dull and ordinary 1950's life and desperate to find a way out of it, even if it means considering a dream-like scenario. Mendes really doesn't like life in suburbia, as, like he did in "American Beauty", he shows the disturbing, genuine thoughts of characters that, on the outside at least, have the ideal lifestyle. This film is excellently acted, Winslet is outstanding as always, DiCaprio turns in one of his best (if not his best) performances, and Michael Shannon steals the show as a mentally unstable man who is initially impressed at the couples' honesty, but eventually angry with what the couple decides. The negatives are some of the arguments between Winslet and DiCaprio make you wonder, "would even the angriest of people be saying the kind of things they're saying when they have kids around?!", and what happens with DiCaprio's character from a work standpoint is like the main plot out of Office Space, only Mendes takes this seriously.
Dan Schultz
Super Reviewer
Sam Mendes' 'Revolutionary Road' is a great movie in a lot of ways. The acting from its stars is incredibly powerful, Deaken's cinematography is graceful, and the story carries some considerable emotional weight. But 'Revolutionary Road' has a story that still feels unoriginal and sounds like a bore on paper. Entertainment value may be lost on great cinematic value, but what this film sets out to do, it does so so superbly.
Kase Vollebregt
Super Reviewer
Kate Winslet and Leonardo DiCaprio's performances are better than the movie itself. The movie is problematic, but these are one of the two greatest actors at their most emotional and rawest moment. I would say that the cinematography is picture-perfect.
Revolutionary Road Quotes
| | |
| --- | --- |
| Frank Wheeler: | You are an empty, empty hollow shell of a woman. I mean, what the hell are you doing in my house if you hate me so much? Why the hell are you married to me? What the hell are you doing carrying my child? I mean, why didn't you just get rid of it when you had the chance, because listen to me, listen to me, I got news for you, I wish to god that you had! |
| | |
| --- | --- |
| AprilWheeler: | I saw a whole other future. I can't stop seeing it. Can't leave. Can't stay. |
| | |
| --- | --- |
| AprilWheeler: | It didn't have to be Paris. |
| Shep Campbell: | You just wanted out, huh? |
| AprilWheeler: | I wanted in. |
| | |
| --- | --- |
| AprilWheeler: | It didn't have to be Paris. |
| Shep Campbell: | You just wanted out, huh? |
| AprilWheeler: | I wanted in. |