Revolver
(2005)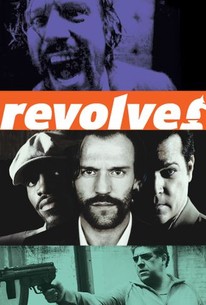 TOMATOMETER
AUDIENCE SCORE
Critic Consensus: In attempting to meld his successful previous formulas with philosophical musings, Guy Ritchie has produced an incoherent misfire.
Movie Info
Gambler and conman Jake Green always ran with a bad crowd and it cost him seven years in jail. After his release, Jake becomes unbeatable at the tables using a formula for the ultimate con that he learned from two mysterious prisoners while on the inside. Now, he is ready to take his revenge against Dorothy Macha, the man responsible for his jail time. Macha is plotting to eliminate his ruthless rival, Lord John, and has staked his credibility on a huge drug deal with the all-powerful Sam Gold. Jake visits Macha at his casino and humiliates him publicly in a game of chance. Macha, fearing more of the same medicine, sends his goons to "take care of" Jake. His life is saved by enigmatic Zack who, with his equally inscrutable partner Avi, offer Jake protection. Against his better judgment, Jake accepts. He soon finds himself playing the very last game he wants to be playing, and there is danger at every turn. But, the biggest danger of all comes from a totally unexpected source--himself. It gradually transpires the real conman is in his head.
News & Interviews for Revolver
Critic Reviews for Revolver
Audience Reviews for Revolver
Not for everyone, and especially not for those who prefer their plots spoon-fed to them, much less to make sense, Ritchie does some knocking on Scorcese territorial doors with this hallucinagenic gangster/chinese box of a filmic exercise in (ulp!) psychological self-discovery (in a movie?!? say it ain't so!!!) ... ... that fails in one important aspect: we remain unconnected to our main character, thus rendering the many and varied contortions moot. Ineffectual. Things happen and you're like "whatever." Nonetheless, there are interesting segments throughout, and rarely a dull moment. I liked it more than it deserved. That can happen sometimes.
Kevin M. Williams
Super Reviewer
½
I enjoyed Lock, Stock but thought that it pandered a little too much to the cheap seats. Snatch was better, but still a little rough around the edges. Whereas this, I had been told, was appalling, and so have avoided it until now. But I really, REALLY wish I hadn't. Because I loved it. I can understand why many found the story a little confusing, the psycho-babble and surreal cut-ins showing the characters state of mind is a little jarring. But the whole thing is executed with such style and accomplishment; far more so than Ritchie's previous films. It has also been said that the direction is a little pretentious. Again no argument here. I can also understand why some may complain about it's lack of originality; the template for the plot is clearly The Usual Suspects, executed in the style of Fight Club. The (rather irrelevant) animated segment is clearly pilfered from and inferior to Kill Bill's, and the shoot out involving Mark Strong's hit man who approaches his work with the clinical efficiency of a German tax inspector (easily my favourite character) is very reminiscent of Leon. But guess what? THAT SEQUENCE IS FANTASTIC. It can only suggest that you watch it a series of great scenes instead of a coherent whole, because it's beautifully shot and performed despite the fact that the underlying story could quite possibly be absolute gibberish...to me, the only question that really mattered was "Did I enjoy it?". And the fact is I really, really bloody did.
½
A brilliant and spectacular adrenaline-driven crime-thriller. A senses shattering instant classic. A pure knockout. Intensely gripping, compelling and incredible. It's original, stunning and exhilarating. It`s a bold, riveting and utterly explosive ride. This is Director, Guy Richie's masterpiece. A dark film noir that has all barrels blazing. It has plenty of action, smarts and surprises that will keep you on the edge of your seat. It's powerful and unforgettable. A well-crafted and well-written flick. A clever, very stylish, blistering, intriguing and mind-blowing ride. It delivers great twist and turns that shatter the senses, the suspense snaps and crackles like live wire. An absolute psychological mind teaser that will grab you and not let go. You will be grabbing your seat right till the very end to it's explosive climax. Heart-pounding and mind-racing all the way through. An excellent, wickedly cool and very entertaining movie. An awesome all-star cast. Jason Statham has never been better, giving a powerhouse performance, he just proves more that he is a force to be reckoned with. Ray Liotta is electrifying. Andre Benjamin is excellent. Vincent Pastore is brilliant. Terrance Maynard and Mark Strong are terrific.
Revolver Quotes
| | |
| --- | --- |
| Avi: | Blah. blah, blah, blah, blah. |
| | |
| --- | --- |
| Avi: | There are no such things as problems, Mr. Green. Only situations. |
| Avi: | There's no such thing as problems, Mr. Green. Only situations. |
| | |
| --- | --- |
| Jake Green: | One thing I've learned in the last seven years: in every game and con there's always an opponent, and there's always a victim. The trick is to know when you're the latter, so you can become the former. |
| | |
| --- | --- |
| Jake Green: | There is something about yourself that you don't know. Something that you will deny even exists, until it's too late to do anything about it. It's the only reason you get up in the morning. The only reason you suffer the shitty puss, the blood, the sweat and the tears. This is because you want people to know how good, attractive, generous, funny, wild and clever you really are. Fear or revere me, but please, think I'm special. We share an addiction. We're approval junkies. We're all in it for the slap on the back and the gold watch. The hip-hip-hoo-fuckin' rah. Look at the clever boy with the badge, polishing his trophy. Shine on you crazy diamond, because we're just monkeys wrapped in suits, begging for the approval of others. |