Rhinoceros
(1974)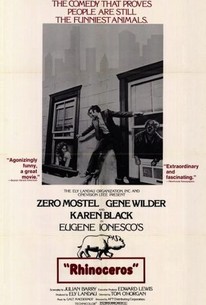 AUDIENCE SCORE
Critic Consensus: No consensus yet.
Movie Info
Produced by the American Film Theater and based upon an absurdist play by Eugene Ionesco, this film tells the farcical tale of a group of people who must reassess their pasts and futures after they begin turning into rhinoceroses. Only one of their peers, a mild-mannered clerk, remains the same.
Critic Reviews for Rhinoceros
There are no critic reviews yet for Rhinoceros. Keep checking Rotten Tomatoes for updates!
Audience Reviews for Rhinoceros
½
Based on a play by Eugene Lonesco, this film is pretty odd if you know nothing of the material its based on. I don't know the play a tall so I did find the plot strange indeed and I can see why it was a failure upon release. This is a shame of course as all the sequences with Wilder and Mostel are pure epic comic genius!. Their facial expressions and body language is fantastic and show two men of comedy, one at his peak and one reaching his peak. I admit the whole film is pretty dull and uninteresting ACCEPT for the first 35min of the film. I realise that contradicts what I just said but its true, most of the film is rather bizarre accept for the long start up sequence which introduces the main pair. This start is sheer brilliance with Mostel on epic form and nothing less than a riot with his stuck up, vain, schmuck of a character who beats down on Wilder's timid, shy and weak 'Stanley' character. The best thing is they are suppose to be best friends but the constant belittling of Stanley (Wilder) by his so called best friend John (Mostel) is so damn amusing. Of course 'John' only means the best for 'Stanley' but at the same time he clearly enjoys his superior dominance over his weak frightened friend and revels in the fact he shines when standing side by side with 'Stanley'. The only other sequence in the film that's any worth is the second big sequence where Mostel transforms into a Rhinoceros...yes that's right, but you don't see the rhino of course, this is an old film. No special effects folks this is merely a very simple film based on a play and involves a lot of improvisation basically, that and a lot of imagination from you the viewer. If you like Wilder then you will LOVE this, on the same level as 'The Producers' but obviously forgotten. This also reminds you how amazing Mostel was and how he could of made more brilliant films with Wilder, Brooks and maybe even Pryor...but alas.
Phil Hubbs
Super Reviewer
A very 70s theatre feel to this picture, it's somewhat experimental and thought provoking, but kinda weird at the same time. It has a lot of funny moments too, I liked it, it's different.
Rhinoceros This was a hard film for me to figure out. I rented this movie because Gene Wilder was in it and I always knew him to be funny, also I am a collector of Kino International Films and this is one out of there catalog. Usually I have given all there films a 4 plus stars, but this not be the case for this movie. I just couldn?t wait for it to be over, and came within seconds of shutting it off completely, but I had the day off from work, it was raining outside and I figured what the heck. In this movie people are turning into Rhinoceroses, now I am not sure but many have said it represents American people turning in to cattle in real life and just flowing with the crowd rather then standing up for there rights and what is right from wrong, and I can see that, similar story line to 1984. I just couldn?t get into this one, maybe you can. 1 star.
Bruce Bruce
Super Reviewer
Rhinoceros Quotes
There are no approved quotes yet for this movie.