The Rich Man's Wife
(1996)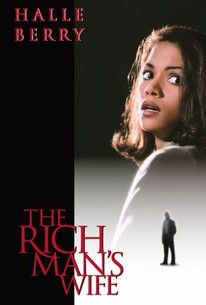 The Rich Man's Wife Photos
Movie Info
In this thriller, Josie Potenza is unhappily married to the older, wealthy Tony. In an attempt to save their marriage, she suggests they take a three-week vacation in the mountains. However, after Josie meets the strange and intense Cole on their vacation, she finds herself involved in a murder conspiracy.
Critic Reviews for The Rich Man's Wife
All Critics (15) | Top Critics (5) | Fresh (2) | Rotten (13)
The Rich Man's Wife is not a great movie, but it's competent and effective enough, and I might have been tempted to give it a recommendation if I hadn't felt so cheated at the end.

Filmmaker Jones delivers a slow-moving thriller that's generally watchable enough (if entirely forgettable)...
'Who is Keyser Söze?' Hard to believe, but the signature line from The Usual Suspects has everything to do with this limp 'from-hell' thriller.
Audience Reviews for The Rich Man's Wife
The Rich Man's Wife Quotes
There are no approved quotes yet for this movie.