Richard III
(1956)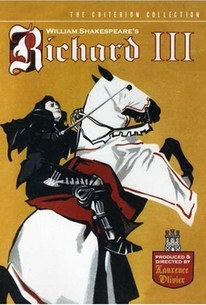 Movie Info
Laurence Olivier was the director, co-screenwriter (with Alan Dent), and star of this robust adaptation of Shakespeare's drama, which, as Bruce Eder has written, "was the final, crowning glory of the British studio system and the end of the great cycle of British films aimed at international audiences." Olivier begins his Richard III with Edward IV (Cedric Hardwicke) being crowned king. In the background of the celebration, Richard (Laurence Olivier) jealously views the proceedings and begins to pick off those obstructing his pathway to the throne. Eventually, Richard becomes king and, after proceeding with a succession of intrigues and duplicities, he finds his kingdom in dire peril, set upon by Henry Tudor (Stanley Baker) and mustering a final defense for his realm at the Battle of Bosworth. ~ Paul Brenner, Rovi
News & Interviews for Richard III
Critic Reviews for Richard III
Audience Reviews for Richard III
"Conscience is a word that cowards use." - Richard III This original "Game of Thrones" adapted Shakespeare's play to the screen for the first time with director Laurence Olivier relishing the title role. Richard's conniving concoctions are a pleasure to see play out as characters are dispatched in diverse yet artful manners. John McCorry worked overtime in ornamenting the cast, arranged like flowers in this Technicolor framing. RICHARD III hits many peaks during its occasionally dense and admittedly dated run.
J.S. Lewis
Super Reviewer
Although the depictions of Richard III could perhaps have been overplayed over the years, no one revels in the stereotype like Laurence Olivier delivering a deliciously manipulating Richard.
John Ballantine
Super Reviewer
½
Shakespeare, a.k.a. Mr. Wordy, takes a lot of time to say what he means. Thus it is no wonder that this version of Richard III is Tedium 101. Sure, it's a faithful rendition, but Olivier does very little to spice this up a bit. The final scene was laughable. The 1995 version with Ian McKellen is a much more accessible version for the modern audience.
Richard III Quotes
| | |
| --- | --- |
| Richard III: | Now is the winter of our discontent, made glorious summer by this sun of York. And all the clouds that glowered upon our house in the deep bosem of the ocean, buried. Now are our brows bound with victorious wreaths, our bruised arms hung up for monuments, our stern alarums changed to merry meetings. Our dreadful marches to delightful measures. Grim visaged war has smoothed his wrinkled front. And now, instead of mounting barbed steeds to fright the souls of fearful adversaries, he capers nimbly in a lady's chamber, to the lascivious pleasing of alute. But I, that am not shaped for sportive tricks, nor made to court an amorous looking glass, I that am rudely stamped, and want love's majesty to strut before a wanton ambling nymph, I that am curtailed of this fair proportion, cheated of feature by dissembling nature. Deformed! Unfinished. Sent before my time into this breathing world scarce half made-up! And that so lamely and unfasionable that dogs bark at me as I halt by them. Why, love foreswore me in my mother's womb. And for I should not deal in her soft laws, should it corrupt frail nature with some bribe to shrimp mine arm up like a withered shrub. To heap a hidious mountain on my back. To shake my legs upon unequel size. To disproportion me in every part. Like to a chaos! Or an unlicked bare fret that carries no impression like the d*mned. Why, I, in this weak piping time of peace, have no delight to pass away the time. Except to spy my shadow in the sun, and descant on mine own deformity. Then, since this earth provides no joy for me, but to command, to check, to forebare such an hour of better persons than myself, I'll make my heaven to dream... upon the crown. And while I live, I shall account this world but h*ll, until this misshaped trunk that bears this head givin this glorious crown. But, yet, I know not how to get the crown, for many lives stand between me and it. And thus, I am like one lost in a thorny wood, that rends the thorns and is caught with the thorns, seeking away and straying from the way, not knowing how to find the open air, but toiling desperately to find it out! Torment myself to catch the English crown! And by that torment I will free myself, or hew my way out with the bloody axe! Why, I can smile, and murder while I smile. I can wet my cheeks with artificial tears, and frame my face to all occasions. Why, I'll drown more sailors than the mermaids shall. Decieve more slyly than Ureses could, and like a siron, take another troy. I can add colors to the canyons, change shape with many advantages, and set the murderous bell to through! Can I do this? Can I get a crown? Tut, were it further off, I'll pluck it down. |
| | |
| --- | --- |
| Edward Plantagenet (King Edward IV): | Sound drums and trumpets! Farewell, sour annoy! For here I hope begins our lasting joy! |
| | |
| --- | --- |
| Richard III: | Here, pitch our tents. Even here, in Bosworth Field. |
| | |
| --- | --- |
| Richard III: | Teach not thy lips such scorn, for they were made for kissing, Lady. |