Richie Rich
(1994)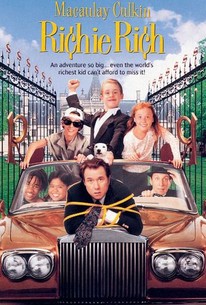 TOMATOMETER
AUDIENCE SCORE
Critic Consensus: With Macaulay Culkin barely registering any emotion, Richie Rich feels disjointed and free of a sense of fun and wonderment.
Movie Info
This action comedy is based upon the Harvey comic book character Richie Rich. Richie, is the wealthiest 12-year old on the planet. His loving, philanthropic parents have provided with everything he could ever want or need, but for one thing. Richie has personal trainers, a butler, toys to die for, and even his own Mac Donald's in his home, but he has no friends to play with. The kids he goes to school with are far more interested in being little capitalists than children. Richie's butler, Cadbury, is sympathetic to his ward's plight and finds him some working-class kids to pal around with. Meanwhile, the wicked Lawrence Van Dough is planning to take over Richie's father's company by having the whole Rich family die in a freak airplane accident. Richie and Cadbury are not on the plane when it crashes, and they are left to find the parents and foil Van Dough's plot. Richie is assisted by his new friends and by the wacky Professor Keenbean. The film's climax offers a spoof of "North by Northwest."
News & Interviews for Richie Rich
Critic Reviews for Richie Rich
Audience Reviews for Richie Rich
Omar: That's not a house, it's a whole 'hood! "An adventure so big... even the world's richest kid can't afford to miss it!" I had completely forgotten about this little lost 90's family film starring Macaulay Culkin. I recently found a copy in a pile of garage sale stuff and I remembered liking it as a little kid, so I thought I'd see how it played to an older me. Obviously, not as well. I was able to see why I had gotten enjoyment from Richie Rich as a kid, but if I had seen this for the first time at an age older than nine, I probably would have hated it. Richie Rich is the richest kid in the world. His dad is a multi-billionaire and he gets to take part in all the luxuries and responsibilities of the extreme upper class. Like all kids though, Richie craves companionship and while representing his father at a factory opening, he sees kids playing baseball and wants to join them. Behind the scenes, one of the Rich's higher up employees is conspiring a takeover with the hopes of getting all the Rich's out of the way. This movie has some annoying, generic themes/values that the audience is clubbed over the head with. Things such as: money doesn't by happiness, a kid needs friends, and money isn't everything. Also the rich, Rich's aren't that believable as characters. If more rich people were like the Rich's, the world would be one hell of a greater place. In the end, this is a decent film for the kids, but for adults, it's too generic and too dumbed down. I still look at it as a nice little piece of my childhood, but had I never seen it; I don't think I would have been missing too much. Richie Rich is definitely not a must see family film by any stretch of the imagination.
Melvin White
Super Reviewer
Richie Rich may be one of the worst family films ever.
Jim Careter
Super Reviewer
Richie Rich is a poorly made family film that by today's standards hasn't stood the test of time. I remember when this film came out, and I watched it quite a bit when I was young. However, I look back, and I wonder what was to love about this dreadful piece of trash? I guess it was because I was young, and I thought that it was impressive. Hell, when you're a kid, it doesn't take much to be impressed. Richie Rich is a poorly made film with bad acting, bad plot and overall bad directing and bad development. The film suffers too much from lack of story that it's easy to forget this film, and if you've seen it, you want to forget this as soon as you can. Having watched Richie Rich, you understand why Culkin's career went into the toilet. The guy is a terrible actor, and none of his films have stood out in the long run for me. I can name so many classic family films without even mentioning Macaulay Culkin's films. They never really that great. Even Home Alone doesn't make me laugh anymore. Richie Rich is really a death rattle for a terrible actor who plainly got a career because he was "adorable". Culkin is terrible and luckily now, he's making Independent films that will most likely end up in the discount section of a K Mart or Wal-Mart. Richie Rich has a pathetic story, and is simply a terrible family film. Watch classic family films like Toy Story or Casper and The Sandlot. But avoid this trash.
Richie Rich Quotes
| | |
| --- | --- |
| Richie's Butler: | Let's kick some butt, shall we? |
| | |
| --- | --- |
| Regina Rich: | Oh my god, my nose! I look like Michael Jackson! |