Ricky
(2009)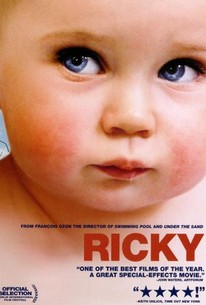 Movie Info
When Katie, an ordinary woman, meets Paco, an ordinary man, something wonderful and magical happens: they fall in love. But then, their love for each other produces an unusual baby, Ricky.
News & Interviews for Ricky
Audience Reviews for Ricky
This could have easily turned into something cute and frivolous but Ozon has a way of turning a story inside out. Instead, Ricky is an angelic metaphor, an uplifting tragedy about coming to terms with devastating loss. An odd but lovable film.
Randy Tippy
Super Reviewer
½
A single mom factory worker gives birth to a very special baby; of course, every mother thinks her baby is miraculous, but in this case the press thinks so, too. Magical realism that never really gets off the ground; it starts as a dour domestic drama then tries to shift gears and turn into a whimsical comedy. A good idea with a good heart, and beautifully acted, but unexpectedly dull in the execution.
½
"Ricky" starts with Katie(Alexandra Lamy), a single mother, in tearful anguish, wanting to give up one of her children to foster care because he cries too much. Oh, if only that's all it was... There was a time when it was just Katie and her 7-year old daughter Lisa(Melusine Mayance). At the factory where she works, Katie meets Paco(Sergi Lopez), a handsome new worker from Spain, and before you know it, they have a lunchtime quickie. Things between them turn more romantic after that, with Paco moving into Katie's small apartment with thin walls and they end up having a baby together. While a deliriously loopy movie on the one hand with a particularly ambiguous ending, "Ricky" also serves a warning to beware of conceiving children around dangerous chemicals.(You see this kind of thing happening in comic books all of the time. Or would you prefer the spiritual approach?) Surprisingly what writer-director Francois Ozon gets right is the dynamic of a working class family, not hestitating to tell the story from Lisa's point of view on occasion as her close relationship with her mother is complicated by the entrance of a stranger into their close knit lives. This is followed by the relationship between Katie and Paco being thrown into turmoil by a new baby who receives the lion's share of attention due to the inordinate amount of his crying. On the other hand, there is one key moment when Katie does not behave like any mother I know in an act contrived only to move the plot forwards.
Ricky Quotes
There are no approved quotes yet for this movie.