Ricky 6
(2000)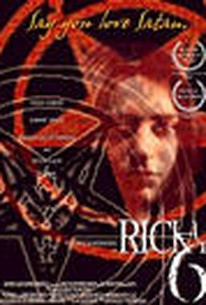 AUDIENCE SCORE
Critic Consensus: No consensus yet.
Movie Info
Based on the true story of drugs, satanism, and murder in the upper class town of Northport, Long Island in 1984.
Critic Reviews for Ricky 6
There are no critic reviews yet for Ricky 6. Keep checking Rotten Tomatoes for updates!
Audience Reviews for Ricky 6
"Rehab chicks are the best, dude!"
Coxxie Mild Sauce
Super Reviewer
Try to see this movie if you can, it is so hard to find. It's not released on DVD yet but there are some copies floating around on the internet. I actually got a great copy of this movie that I bought at a convention a few years back. It's based on the true story of teenage Ricky Kasso aka The Acid King. He got that nick name because he use to drop several hits of acid everyday. Here's the true story. I'll sum it up for you... What happened was Ricky Kasso and a few of his friends, who were brainwashed by him, use to worship Satan and held seances at their friends houses. They also made animal sacrifices and they practiced the Satanic Bible. Actually, what's interesting also is that they use to hold seances in the back of the infamous "haunted" Amityville house. No shit. Next comes the murder of one of Ricky Kasso's own friends. One night at a party when Ricky was passed out sleeping, his friend Gary Lauwers stole 10 bags of angel dust from Ricky's pocket. When Ricky found out what the kid had did, him and his other friends lured Gary into the woods with promises to give him drugs and have a party. After taking several hits of mescaline around the campfire things suddenly spun out of control. Ricky Kasso had threatened to kill Gary if he didn't say "I love Satan" and after Gary was being stabbed repeatedly all he could say was, "No, I love my mother". Ricky had stabbed Gary somewhere around 36 times, burned him on parts of his body and gouged out his eyeballs. After the murder Ricky Kasso and his other friends had bragged about it to people around the town. Eventually Ricky was caught by the police, and while waiting in his jail cell Ricky committed suicide by hanging himself. One of his other friends also killed himself when he found out how much trouble he was actually in, and Ricky's other close friend was acquitted of second degree murder because of his mental state after doing so many drugs that night. This movie was awesome. It's very creepy in the real life sense, being that this was all an actual true story. The acting was believable, especially Ricky Kasso played by Vincent Kartheiser, although in this movie the character's name was Ricky Cowen. There's really not that much violence here, but this movie really didn't need it. The subject matter alone was gruesome enough, especially at the end when the young kid gets murdered. I also liked how they showed a bit of a build up as to why Ricky Kasso turned out the way he did. It's like in the beginning you actually feel a little bad for Ricky, knowing that he could have gotten the help that he needed, but no one was really there for him. All that quickly changes a little later on in the film when you find yourself wanting to strangle the hell out of Vincent Kartheiser's character. Anyway, this movie is a must see! Try to find it, perhaps maybe on EBay or something. Also, look up the real picture of Ricky Kasso. Talk about a creepy looking kid!
jd cryptic
Super Reviewer
Ricky 6 Quotes
There are no approved quotes yet for this movie.