Riddick
(2013)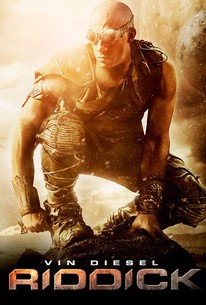 TOMATOMETER
AUDIENCE SCORE
Critic Consensus: It may not win the franchise many new converts, but this back-to-basics outing brings Riddick fans more of the brooding sci-fi action they've come to expect.
Movie Info
Riddick, the latest chapter of the groundbreaking saga that began with 2000's hit sci-fi film Pitch Black and 2004's The Chronicles of Riddick reunites writer/director David Twohy (A Perfect Getaway, The Fugitive) and star Vin Diesel (the Fast and Furious franchise, xXx). Diesel reprises his role as the antihero Riddick, a dangerous, escaped convict wanted by every bounty hunter in the known galaxy. The infamous Riddick has been left for dead on a sun-scorched planet that appears to be lifeless. Soon, however, he finds himself fighting for survival against alien predators more lethal than any human he's encountered. The only way off is for Riddick to activate an emergency beacon and alert mercenaries who rapidly descend to the planet in search of their bounty. The first ship to arrive carries a new breed of merc, more lethal and violent, while the second is captained by a man whose pursuit of Riddick is more personal. With time running out and a storm on the horizon that no one could survive, his hunters won't leave the planet without Riddick's head as their trophy. (c) Universal
News & Interviews for Riddick
Critic Reviews for Riddick
Audience Reviews for Riddick
So 'Pitch Black' was a sleeper hit which meant it was inevitable that a sequel would come along, unfortunately Hollywood never learns and they messed it up as per usual. The return of 'Riddick' is a strange convoluted mess that mixes various other film elements and completely loses what the franchise was originally. But does that make it a bad film? Now I just saw the director's cut and it does clear things up (apparently) over the cinematic version. I honestly can't comment on this as I haven't seen the cinematic version since it came out in the cinema way back in 2004. Bottom line apart from extra fight bits and various other odd small scenes the main crux of the director's cut are a few flashback sequences where Riddick sees a spirit-like entity of one of his people. This female gives him more information about his past and homeworld. The whole plot in general is choppy, we get to grips with these 'Necromongers' coming along and threatening every living soul including Riddick. So you think you're gonna get a full on war between the naughty legions and Riddick. But no! Riddick gets carted off to a prison planet for half the film and the naughty legions are virtually forgotten about till much nearer the end. I think this film split fans right down the middle, myself included. The original film was a semi serious, semi grounded sci-fi thriller/horror that was gritty, dark (no pun intended), not many over fancy effects, adult based and had a small fry cast. It wasn't original, a typical alien/last man standing survival thriller but limitations brought the best out in the final product. This sequel was completely the opposite of that first film, everything they did right for 'Pitch Black' they pretty much did wrong for this, polar opposites. Its amazing how the Hollywood bigwigs never seem to learn. This film was chock full of massive CGI effects, in your face effects, lots of gun fights, lots of fisticuffs, big CGI alien creatures, big CGI ships and stunt men flying all over the place. The cast is bigger and of a higher grade, sets are bigger and deeper, costumes are much more lavish and most importantly, the biggest issue (as usual), they went with a PG-13 rating. There obviously weren't as many limitations for this bigger budgeted flick as the Riddick universe has been greatly expanded, which isn't totally a bad thing I might add. But as usual, the first film did surprisingly well so the bigwigs wanted another film which would capitalize on the new franchises popularity. In order to do this they demand a watered down film for the wider audience which is bigger in every aspect. I did also get the feeling that Riddick was suppose to be a mere human in the first film, but the character has been massively over expanded in this sequel. I say over expanded because clearly in the first film none of this stuff had been intended, it was (I think) just a band of humans fighting aliens after crash landing. The creators were simply able to shove all this into the films universe afterwards to make this sequel more explosive and interesting...I think. So we end up with this sci-fi which has totally lost its gritty beginnings and has now become much more of a Flash Gordon-like fantasy. The bad guys are basically Romans in space with a suspiciously 'Dune-esque' appearance. There is a silly elemental race of aliens that look like something out of 'Harry Potter', a bleak cliched prison planet, cliched [i]Jedi[/i]-like spiritual moments and the evil hordes aren't really explained. Why do they wish to convert everyone? what is their religion exactly? do they brainwash people? what happens to get those marks on their necks exactly? where do they come from? what is this 'underverse'?, what is their goal?, is their leader a half dead spirit of some kind?, can you tell us more about the 'Quasi-Deads' please...I also think the actor playing the lead villain was trying too hard to make a memorable bad guy, felt a bit too forced to me. Despite all that and the obvious selling out by everyone involved (if they had a choice that is), the film is still highly enjoyable. For me this is down to a few things, firstly the visuals. Now I know I just said the original works better for lack of glossy CGI, but I simply can't deny that this film looks crisp n sexy, if you like the sci-fi genre then you can't go wrong. Its that trashy pulp sci-fi appeal with a dash of space opera that appeals so much, of course its expensive pulp sci-fi but I have to admit I liked the atmosphere here. The other reason is simply the main character of Riddick. This guy is your typical musclebound hardass sure but he looks distinctive with his glowing eyes, his particular blades of choice and of course the goggles. As I said in my 'Pitch Black' review this guy is like the new 'Snake Plissken' but in space, he just oozes coolness. Along with Riddick I must also mention 'Toombs' who is another great character that I'd like to see more off. A bounty hunter with a ruff Han Solo-ish appearance and a real bad attitude, great stuff. So yeah, despite all its cliched guff, muddled plot and general unoriginal silliness, the film is (for me at least) quite enjoyable. It does remind me very much of 'Star Trek Into Darkness' in the fact that both films are basically crap...but still enjoyable sci-fi romps in their own way. You just gotta look past the crapola and have fun with the science fiction if you can (more here than in 'Into Darkness' I might add). Bet you didn't see this review twist coming eh.
Phil Hubbs
Super Reviewer
½
The Chronicles of Riddick, by David Twohy, goes full blown sci-fi with its Riddick character.
The story is a continuation of Pitch Black, yet more or less stand alone. It also manages to reach 2 hours, but it's not just a mishmash of ideas. The plot details move the story from location to location and bring characters in and out as needed. That isn't to say that the film couldn't have been shorter because it probably could have been.
There is a heavy reliance on CG and while it isn't top grade, or even mediocre grade at some parts, the film makes up for it with its level of action related sequences and mild violence.
Riddick is a character fit for Vin Diesel; a solid mix of a bad good guy. The girl power of Alexa Davalos, Thandie Newton, and Judi Dench are solid additions to the cast.
The science fiction atmosphere of The Chronicles of Riddick delivers enough to make this a recommendable picture.
½
The definition of "nothing to write home about": pretending way too much to be cool while being entirely predictable and set in a really fake environment. There are glimpses of decent world-building and it's overall never boring, but not particularly interesting either.
Riddick Quotes
| | |
| --- | --- |
| Riddick: | You're all scared of the wrong thing. |
| | |
| --- | --- |
| Riddick: | Don't know how many times I've been crossed off a list and left for dead. Guess when it first happens the day you were born, you're going to lose count. |
| | |
| --- | --- |
| Boss Johns: | A stressed animal is gonna run to ground it knows. |
| | |
| --- | --- |
| Riddick: | Good color. Matches your nipples. |