Ride Along 2
(2016)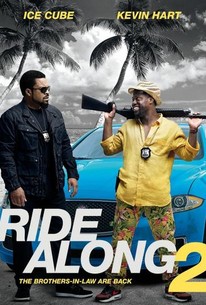 TOMATOMETER
AUDIENCE SCORE
Critic Consensus: Ride Along 2 presents a cop-comedy sequel whose well-matched stars can't break the law of diminishing returns -- or lock up a script that unabashedly steals from the original.
Movie Info
Kevin Hart and Ice Cube lead the returning lineup of Ride Along 2, the sequel to the blockbuster action-comedy that gave us the year's most popular comedy duo. Joining Hart and Cube for the next chapter of the series are director Tim Story, as well as Cube's fellow producers-Will Packer, Matt Alvarez and Larry Brezner-who will produce alongside Cube.
Critic Reviews for Ride Along 2
Audience Reviews for Ride Along 2
½
See more reviews like this at chrisbreviews.blogspot.com This film is very much like it's original. The same format, practically the same events, you can pretty much predict the ending from knowledge of the first film. Some might say it's unoriginal, but others would say 'hey, if it aint broke don't fix it'. Horrible Bosses did the same thing. I think it's a bit of both. It was tinged with tediousness, but simultaneously it blends beautifully. Don't expect anything different from the plot though, it's more or less the same thing. Bad guy doing bad stuff, Ice Cube setting off to take them down, Kevin Hart grabbing onto his leg like a child begging to come along with the goal of being promoted. Hart's character says one or two useful things from his video game knowledge, saves Ice Cube's life once or twice, and earns his respect. Same old, same old. But I still enjoy it. At any point in this movie where I thought 'mmm... you did the same thing last movie', they erased some of that criticism by referencing that moment in the last movie and balancing the nostalgia and current events commendably. Kevin Hart, Ice Cube, Olivia Munn, Tika Sumpter, Ken Jeong, Benjamin Bratt, Sherri Shepherd, and Glen Powell among others did their jobs well in this movie, none of the acting was stand-out. The chemistry between Hart and um... Cube just worked! This 2-man comedy act should go on tour together. The hilarious antics of Kevin Hart being shut down brutally by Ice Cube with a 'pull your shit together' was used many a time but never failed to make me grin. One issue that I can't decide if I like or not in these movies is the bad guy. They strut around confidently for a while being kind to our dynamic duo until the very last second when they have to jump into action when they turn serious. I did think that Laurence Fishburn was more effective as an antagonist in the original. The characters are more or less in the same state that they were at the end of the last film, with a couple new additions. None of the character work was amazing though, and there wasn't much character development. Genres include action, adventure, and comedy with a small dose of romance. The Miami setting is beautiful yet dangerous. The CGI and special effects was displayed with flying colours especially in various car chase sequences. No sequel is planned yet but they certainly leave it open-ended. Never say never. I was engaged solely by the humour brought about by Kevin Hart and Ice Cube, not by acting or by plot. The running time was 101 minutes, a decent length for this film. To conclude, although this film was a replication of the original, I still had a good time with this film. Again, Kevin Hart and Ice Cube were amazing together, and aside from some cursing by Mr Cube, I would recommend this for the entire family.
Christopher Breen
Super Reviewer
½
When you see people that are cynical about sequels, this is the type of movie that they have in mind when they complain about the lack of original ideas. I'm not gonna suggest that the first Ride Along was a masterpiece. It was just your basic buddy movie where Ice Cube was antaganostic towards Kevin Hart, whose character wanted to marry his sister and also wanted to be a detective. It was as basic a buddy movie as one can find. It wasn't a movie that I would call good to begin with, but it at least benefited from Kevin Hart's and Ice Cube's chemistry. That's what really made the first movie, to me, watchable at best. Their relationship wasn't as entertainingly antagonistic as Robert DeNiro's chemistry with Charles Grodin in Midnight Run was, but it was decent at best and it led to some laughs. They may not have been consistent laughs, but I'd be lying if I didn't say that I, at least, chuckled at some parts of the film. Even as I say that, however, it's not like I, or anyone else for that matter, was really clamoring for Ride Along 2, because what can you do in the sequel that is unique and not just a rehash of what we already saw before and done in a, somewhat, better fashion. The answer to that question, of course, is absolutely nothing. The sequel is obviously just a rehash of the first movie. It's almost like the first film never existed and Ben didn't prove himself worthy of James' respect. Essentially, James treats the events of the first film as a lucky accident, so they can basically use the same plot yet again of James not trusting Ben enough to let him contribute anything of value to their investigation. And, surprise surprise, the laughs are few and far in between this time, as it should've been expected. Here's the thing, the success of the first film wasn't really predicated on the fact that the movie was well-written or that the narrative was strong that it lent itself to strong comedic situations. No, it was predicated on the fact that Kevin Hart is a goofy, likable small man and Ice Cube is the badass gangsta rapper that doesn't take any shit from anyone. That's what the movie was sold upon. It wasn't sold upon having incredible acting or a fanstastic script, it was sold on those two being 'opposites'. Simple concept, yes, but audiences, for the most part, liked it. Did they like it enough to warrant a sequel? Eh, that's debatable. And I guess they thought they could get away with, essentially, making the same movie, since it's not like they needed an actual, finished script to go ahead with the movie. All they needed was the basics and let Kevin and Ice do the rest of the work on their own. Kevin and Ice still have chemistry together, but it's the rules of diminishing returns. Say a great joke the first time and everybody laughs. Keep saying the same joke over and over, the laughs grow smaller and smaller. And I'm not even saying that the first one had any great jokes to begin with, I honestly don't even remember any of them, but you get the analogy. Honestly, this movie just isn't that funny and they do bring in some new people, like Olivia Munn and Ken Jeong, to give off the appearance that you're watching something new. But that's like putting a new coat of paint on an old, busted down car. Yea, it's shinier, but it's still an old and busted down car. Like I said, Kevin and Ice still have chemistry together but that wasn't gonna be enough the second time around. And I think that's obvious when you look at how the film plays out. If you saw the first flick, then you know pretty much what to expect. Almost to a T. The film has few chuckles and it's heavy on the slapstick, just in case none of the interactions between Ice an Kevin really do much for you. In my case, neither the interactions, as in dialogue, between Kevin and Ice nor the slapstick, did anything for me. It's almost impossible for me to find anyone to recommend this movie to. Because it's like, some fans of the first film might have eaten this sequel up, but I see just as many people, if not more, seeing through the charade that this film tried to pull off. Maybe I'm giving people too much credit, but that's just how I see it. I'd like to think that more people see through this than there are those that enjoyed it. Not that there's anything wrong with that, mind you, we all have different tastes as far as entertainment goes. I just fail to see how some people might find this enjoyable. But that's just me, I'm not judging anyone who enjoys this. So, yea, chemistry between the leads is still there...and not much else. Bad movie and I sure as shit hope that we don't get a third movie in this 'storied' franchise. Can't recommend, in the slightest.
Jesse Ortega
Super Reviewer
½
Ridden Along hard and put away wet, these sloppy seconds dish out exactly more of the same warmed up leftovers as served up in the original with equally unfunny results. It makes sense for a buddy cop flick like this to emulate well-wrought action comedies like 48 Hours and Lethal Weapon. These modern classics, however, at least pay deference to the Golden Age of comedy, when fat man/dummy groups ruled the roost. Laurel & Hardy, Abbott & Costello (a twist in the formula where the fat man IS the dummy) and even The Honeymooners twofer of Cramden & Norton provide the ultimate template for mismatched partners-a jumping off point, at least, for Hours and Weapon to then spotlight the comic and acting strengths of its stars. These films also boast solid scripts though, which Ride Along and its sequel fail to do. At least Ride Along borrows from Hours and Weapon. Its follow-up just emulates the first Ride Along, a poor copy of a poor copy. In this PG-13-rated sequel to the 2014 hit comedy, Ben (Hart) heads to Miami with his soon-to-be brother-in-law James (Cube) to bring down a drug dealer who's supplying the dealers of Atlanta with product. Without A-Grade storytelling, the comic and acting strengths of its stars flounder all the more. Though pint-sized, Hart sports a ripped physique and sells out arenas all around the country while hip hop legend and bona fide movie star Cube exudes charismatic cool. You can buy the latter as straight man, but not Hart - whose hilarious stand-up act presents a different kind of funny - as the stooge...not enough for a great comedy team dynamic, at least. On the plus side, these continued misadventures develop the characters a notch further (Hart's Ben just graduated the police academy and is now getting married while Cube's James gets a love interest). Cancelling any plusses out, however, is the fact that Ride Along 2 recycles most of the story from part one. Rather than up the ante with more explosions and intrigue, it feels like the same damn song and dance. Bottom line: Straight Outta Incompetent
Ride Along 2 Quotes
| | |
| --- | --- |
| Ben Barber: | Don't look at me. Look at me! Don't look at me. That was a test. |
| | |
| --- | --- |
| James Payton: | Do you ever hear the shXX that flies out of your mouth? |
| James Payton: | Do you ever hear the shit that flies out of your mouth? |
| Ben Barber: | No. |
| | |
| --- | --- |
| James Payton: | I don't compliment no marshmallow.. |
| James Payton: | I don't compliment no marshmallow. |