Ride in the Whirlwind
(1967)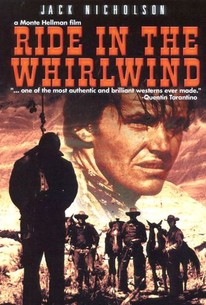 Ride in the Whirlwind Photos
Movie Info
Director Monte Hellman and writer-star Jack Nicholson filmed this western simultaneously with The Shooting (1967). Nicholson stars as Wes, cowpuncher pal to Vern (Cameron Mitchell) and Otis (Tom Filer), who have all been hired as hands for a cattle roundup. En route to their new jobs, the men come across the handiwork of a lynch mob. Later, they find hospitality at the home of Blind Dick (Harry Dean Stanton), who graciously provides them with food and shelter. The cowboys are unaware that Blind Dick and his men recently robbed a stagecoach and murdered the driver. A sheriff (Bradon Carroll) and his posse surround the cabin and hang the thieves. Though innocent, the terrified cowboys flee. Otis is killed, but Wes and Vern escape -- with the posse in pursuit. When they stop to rest at the ranch of Evan (George Mitchell), Wes considers taking Evan's daughter hostage. Trying to steal Evan's horse, Vern is killed by the rancher, who in turn is shot by Wes. Once a law-abiding citizen, Wes has been transformed by unjust vigilantism into a killer. Fascinated by frontier era journals that he discovered in an L.A. library, Nicholson used the documents as inspiration in writing the script.
Critic Reviews for Ride in the Whirlwind
Audience Reviews for Ride in the Whirlwind
½
After enjoying "The Shooting," I was disappointed with "Ride in the Whirlwind." The films share a director, some cast members, a Western setting and an intentionally minimal plot of pursuit, but where "The Shooting" approaches the stark tension of a samurai movie, "Ride in the Whirlwind" is mostly just dull. Only 82 minutes long, it still has plenty of slow patches. Three innocent cowhands (Jack Nicholson, Cameron Mitchell, Tom Filer) are trekking to a new job when they come upon a band of robbers secluded in a cabin. The outlaws peacefully offer their hospitality for the night, but when a posse of vigilantes surrounds the area, Nicholson's trio is perceived to be part of the gang. In a "shoot first, ask questions later" world, this situation is bound to turn deadly. A simple case of bad timing wrecks multiple lives. Nicholson also wrote the screenplay, but his performance is merely serviceable. No one would predict future superstardom for him, based on this film alone. Contemporary viewers also will enjoy checking out Harry Dean Stanton in his younger days -- interestingly, he is credited as just "Dean Stanton." Two script elements may cause unintended snickers. The repetitive use of "Obliged"/"Much obliged" as an expression of thanks could easily breed a drinking game, and it's hard to miss the absurdity of the family patriarch whose "daily grind" amounts to lamely hacking away at a tree stump in his front yard. Presumably, it was hurting his property value. Spoiler alert: Anyone who hasn't seen the film yet should skip Flixster's staff review above, because it recounts the entire story!
Eric Broome
Super Reviewer
Ride in the Whirlwind Quotes
There are no approved quotes yet for this movie.