Ridicule
(1996)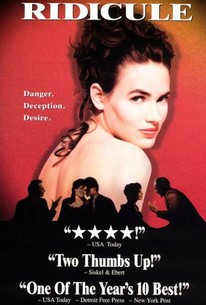 Movie Info
Set in late 18th-century France during the reign of Louis XVI, this costumer provides a fascinating glance into a time where a cruel rapier wit would take one further up the social ladder than gold, land, or birthright and where ridicule could drive a man to suicide.
Critic Reviews for Ridicule
Audience Reviews for Ridicule
Typical fare that critics love to love, and I just don't relate to.
Cynthia S.
Super Reviewer
A provincial lord goes to Versailles to entreat Louis XVI to finance an engineering project that will save his villagers. This film's concept is engaging and interesting, in the ilk of Dangerous Liaisons: I like the idea that one's wit an ability to manipulate social standing have economic and political weight. Such a concept demonstrates the power of rhetoric as a creation of reality. However, the execution of the film leaves much to be desired. When the film presents itself as an exhibition of fine wits, it is reasonable to expect witty remarks, but all the repartee, witticisms, barbs, come-backs, and clever insults (no puns, of course) are rather lame. There's more wit in a bad House episode than in this whole film. What is more, the love triangle doesn't work for me because the final result is a predictable fait d'accompli. Finally, the conclusion of the film essentially makes the action that preceded it meaningless. Overall, while I like the film's central thesis, I can't find much to like in the action or plot
Jim Hunter
Super Reviewer
½
The man who is to make the introduction is Monsieur de Blayac layes on his deathbed and in walks Monsieur de Montalieri who exemplifies the unchristian nature of the clergy in the French court. He reminds Blayac of an insult from many decades before and in bizarre fashion whips it out and starts peeing on him. The director zooms in for a p***is extreme close-up for some reason, and really that will be my most disturbing memorable moment of the movie. Gregoire attempts learn how to play the part of a successful Courtier, while convincing himself that it is just an act. His instructor is Marquis de Bellegarde who is an experienced courtier but lacking in the intellect to really make it. He sees in Gregoire the quick wit that he wished he had. Gregoire falls for Bellegardes daughter who is as equally as super aultruistic, but is arranged to a much elderly count who arranges to marry her for 2,000 frac allowance an Bimonthly bed visitations. Next time I'll just dig up an old copy of Dangerous Liaisons, Glen Close at the top of her acting game.
Bill Cavros
Super Reviewer
Ridicule Quotes
There are no approved quotes yet for this movie.