Riding in Cars With Boys
(2001)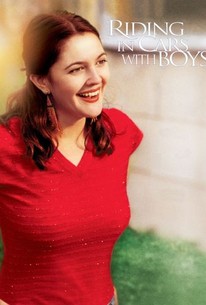 TOMATOMETER
AUDIENCE SCORE
Critic Consensus: Riding in Cars With Boys suffers from mixing grit and pathos with cuteness and comedy. Ironically, many critics found Zahn's character more compelling and three-dimensional than Barrymore's.
Riding in Cars With Boys Photos
Movie Info
After failing to get into college, Beverly Donofrio loses interest in everything but riding around town in cars, drinking, smoking and rebelling against authority. After becoming pregnant, marrying, then divorcing, she must cope with being a teenage single parent. She finally ends up at an elite New England university where she tries to reach a balance between her mistakes and her goals.
Critic Reviews for Riding in Cars With Boys
Audience Reviews for Riding in Cars With Boys
Barrymore doesn't look really convincing neither as a dreamy teenager nor as a frustrated 35-year-old mother who threw away her dream, and even though the movie develops its characters as complex people with real problems like those found in real life, the end is disappointing.
Carlos Magalhães
Super Reviewer
All time favourite of mine that I have not watched in a long time. Rewatching it was just as good - I love the honesty of this true story and the flaws of Bev, played wonderfully by Drew Barrymore. I know a lot of people do not like it, but a lot of people seem to want everything to be nice all the time, especially in movies, and people aren't like that in real life. The story is set over about thirty years, starting in the 60's when Bev is a child and going through to the 80's when she is in her 30's. During this time, we see that she was a precocious child with a talent for writing who finds herself pregnant in her teens and married to the father of her son, who is not a guy she probably would have found herself with under normal circumstances. Bev's dreams of going to uni are crushed and her relationship with her father strained as she tries to make a go of her life. Needless to say, she is not the best mum and the issues of resentment towards her child are dealt with very honestly and well. It makes her unlikeable to a lot of people, to me it shows she is human. I don't think you ever seriously doubt that she loved her child, even when she doubts it herself, but certainly there are times that she hasn't liked him, and honestly, I think most people would have felt the same, such as the situation where her son blows her interview for her. Though you do feel sorry for her son, after all none of it is his fault, he is only a child and it seems he has way too much responsibility way before his time, you also feel sorry for Bev as you see yet another dream die for her. (Well, I did anyhow). After all, she was practically a child herself when she became pregnant. The cast are all excellent here. It was sad to watch Brittany Murphy in this as Fay, Bev's best friend, who also finds herself pregnant and married off at a young age (yet somehow she comes out of it better than Bev does). Brittany was such a good actress and is perfect here. Steve Zahn also excellent as Bev's husband, Ray, who ends up a junkie. Nice small role by Sara Gilbert as one of her school friends and Adam Garcia also cast well as Bev's adult son. This movie does somehow manage to have a nice ending. I know a few people consider it corny, but I liked it. I liked that things did pick up a little for Bev in the end, and that her son, Jason, found happiness (with a very young Maggie Gyllenhaal. I did not even remember her being in this, which shows how long ago I watched it!), and was able to feel less responsible for his mother. I have not read the book it is based on, so I am not sure how true this is to that, but a really inspiring true story.
Nicki Marie
Super Reviewer
A very good representation of the not so wedded bliss many mothers went through in low income housing and troublesome husband during the days of teen pregnancies. Nowadays we have an entire cavalcade of shows dedicated to this subject, and so it is very hard to take this story and its subject seriously without being partial. Barrymore, with a bit of class and humor, makes the movie and all its eccentricities not only barely, but great to watch. It's amazing how enjoyable this movie truly was.
Spencer S.
Super Reviewer
Riding in Cars With Boys Quotes
There are no approved quotes yet for this movie.