Riding the Bus with My Sister
(2005)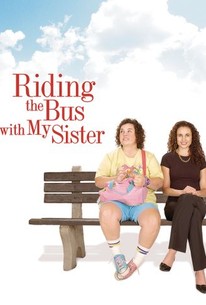 AUDIENCE SCORE
Critic Consensus: No consensus yet.
Riding the Bus with My Sister Photos
Movie Info
Based on a true story, this "Hallmark Hall of Fame" TV movie was produced by Rosie O'Donnell, who also stars as the profoundly mentally challenged Beth Simon. When Beth's father dies, her sister, Rachel (Andie MacDowell), a brittle, self-absorbed fashion photographer, takes charge of Beth -- who, having been allowed to grow up without learning anything of self-discipline and social propriety, is no prize herself. Though she loves her sister, Rachel is embarrassed by Beth's obnoxious, obstreperous behavior, especially when riding the bus, which she does religiously and obsessively every day, much to the dismay of the other passengers. (Be warned: this is not one of those lachrymose "lovable handicapped adult" movies so common to network television.) Also, Beth has been allowed by her overindulgent father to neglect her health and hygiene in a deplorable fashion. Gradually, the two sisters connect and manage to profoundly change one another. Those viewers and critics who condemned Rosie O'Donnell for her abrasive, over-the-top portrayal of Beth were generally those who had had little contact with genuine handicapped people; conversely, those who had such people in their own families, or who had worked extensively with them professionally, applauded O'Donnell for her disturbingly accurate performance. Adapted from the book by the real-life Rachel Simon (actually an English professor and not a photographer), Riding the Bus with My Sister was telecast by CBS on May 1, 2005.
Critic Reviews for Riding the Bus with My Sister
There are no critic reviews yet for Riding the Bus with My Sister. Keep checking Rotten Tomatoes for updates!
Audience Reviews for Riding the Bus with My Sister
This could have been so much better. Rosie o'Donnell was great in her role, but the rest of the cast was lacking.
Erin Collins
Super Reviewer
Riding the bus with my sister is about all the problems that come with being mentally disabled, not being accepted by family and public. Beth rides the buses to help her cope with her disalibty. Her family does not want anything to o with her. After her father dies the other siblings were face with hard fact that will take care of Beth. Over time her sister Rachel tried to help Beth out but after a big fight it totally look like that the relationship was done for good. Will the sisters stay together or go their separate ways, Pros Good acting and plot. Eyed opener on what it is like to have a disability and the problems that come with it. I liked the big community that Beth has. I liked how the bus drivers thrown Beth a birthday party. It really hit home for me because it reminds me about my disalibty. This is a really moving film Con It starts out slow This is a true drama but it has a coupe of laughs. This film can be really sad at times. If u like dramas or true stories u should give this a try.
erika bruhns
Super Reviewer
½
It ended abruptly and is probably not something I would watch again, however, I thought Rosie did a good job portraying Beth and it was an interesting story.
Sarah Prisbylla
Super Reviewer
Riding the Bus with My Sister Quotes
There are no approved quotes yet for this movie.