Right at Your Door
(2007)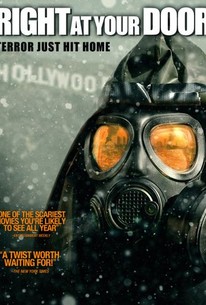 TOMATOMETER
AUDIENCE SCORE
Critic Consensus: Though Right at Your Door dips into melodrama at the end, it's an otherwise tense, effective, and eerily plausible doomsday scenario.
Right at Your Door Photos
Movie Info
After multiple dirty bombs are detonated, spreading deadly toxic ash across Los Angeles, Brad inadvertently quarantines his wife, Lexi outside their new home by safely sealing himself inside. With the city under siege and martial law in affect, Brad and Lexi struggle to survive with few supplies, limited time and no information--all while separated by thin doors and thinner sheets of plastic. When "help" finally does arrive, it appears to be anything but.
News & Interviews for Right at Your Door
Critic Reviews for Right at Your Door
Audience Reviews for Right at Your Door
MisterYoda ?
Super Reviewer
½
"Terror just hit home." After Lexi leaves home to visit Central LA, there's a terrorist attack involving chemical bombs. After the attack, her musician husband, Brad, fails to find her and reluctantly seals himself inside his house. He will have to deal with this decision in the days to come.
REVIEW
Chris Gorak's directorial debut taps into the post-9/11 paranoia and fear of global terrorism and raises some very tough and emotionally devastating questions by creating nihilistic situations that create the premises for this brilliant, tense film about what started off as a normal day soon turned into an absolute nightmare for the commuters and residents of Los Angeles. Aspiring musician Brad (Rory Cochrane - "A Scanner Darkly") starts off his day preparing breakfast for his working wife Lexi (Mary McCormack). After he sees her off he sets about his usual routine around the house. But today everything is going to change. His music station is interrupted by the news bulletin that a series of explosions have shaken LA. He looks out his front door and sure enough smoke clouds are rising from the urban centre, and the streets are plagued with emergency services rushing in to help. Brad attempts to leave his suburban area and to rescue his wife - who he hasn't been able to contact. But the police won't let him leave the area. Brad, along with a neighbour, prepare to wait it out, but then comes the report that everyone has to seal their homes as the chemicals from the bombs are now airborne. They seal themselves in, but when Lexi arrives looking for help, Brad has to make a devastating decision - does he let her in and run the risk of contracting the infection, or does he leave her outside to the mercy of the army and scientists roaming the neighbourhood looking for the infected. "Right at Your Door" is a very intense movie with brilliant performances from Rory Cochrane and Mary McCormack. Many people have discredited the film saying that it becomes boring and monotonous during the last forty minutes or so but I found it to be very engrossing and nerve-wrecking all through and never found it to be boring. That being said, it's not something I'd watch again. Intense and very interesting, it's worth checking out at least once.
Lorenzo von Matterhorn
Super Reviewer
A zombie without the zombies and dirty bombs in place of the zombies.
James Alvarez
Super Reviewer
Right at Your Door Quotes
There are no approved quotes yet for this movie.