The Right Stuff
(1983)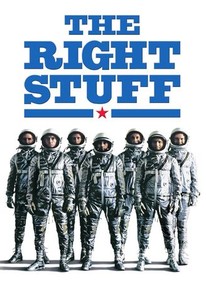 TOMATOMETER
AUDIENCE SCORE
Critic Consensus: The Right Stuff packs a lot of movie into its hefty running time, spinning a colorful, fact-based story out of consistently engaging characters in the midst of epochal events.
Movie Info
Covering some 15 years, this film recounts the formation of America's space program, concentrating on the original Mercury astronauts. The film relates the dangers and frustrations facing the astronauts, the various personal crises involving their families, and the schism between their squeaky-clean public image and their sometimes raunchy, earthbound shenanigans,
News & Interviews for The Right Stuff
Critic Reviews for The Right Stuff
Audience Reviews for The Right Stuff
The heroes walking under our noses may have been walking on the moon as well. A great history lesson for those jaded in the age of technology. (Gotta admit that "Apollo 13" is betther, though.)
Christian C
Super Reviewer
A bit of an interesting history lesson and character study about the beginnings of the American space program. Shepard is iconic as Chuck Yeager, Harris does justice as John Glenn, and Fred Ward lends pathos as Virgil Grissom. A feeling of cowboys looking for the next bronc to break pervades the work.
Kevin M. Williams
Super Reviewer
½
Based on Tom Wolfe's book, this is the story, spanning some 15-6 years about the beginnings of America's space program, focusing on the Mercury 7, but starting with test pilots like Chuck Yeager, who, despite breaking the sound barrier, and being widely considering the best test pilot ever, was not selected to be an astronaut. The primary focus of the film, and most of the book (from what I've been told) really only scratches the surface, as trying to tell the complete story would take like 10-11 hours or so. But the film uses its 193 minute running time to great effect, contrasting the lives of the men and their wives with the broader spectrum of the political and social contexts of the time. And, being an adaptation of Wolfe, there's also the nice undercurrents of countercultural liberal subversiveness at times. This is a very well made film, and cinematically yes it is truly amazing. As far as accuracy and history go, well, the film does suffer, and many of the people whose lives were the basis for this were rather critical of the portrayal of the times and events, and even Wolfe was very displeased with how this turned out, but even then, this is still a remarkable and wonderful piece of work, and one of the many great examples of "they don't make 'em like this anymore". And they probably wouldn't be able to either, at least not without some major changes. That's fine though, because this film does a great job of bringing out a sense of wonder and excitement. These men were real heroes who risked their lives to try to go where no one had gone before, and to try to do it before the Russians, since, at least then, that truly meant something. It really makes you yearn to achieve something great like this, and especially from a relatively low tech perspective. No super advanced computers at that time (being depicted in the film), and no digital technology to tell the film's story with either, so this really makes you appreciate the craft since there's no CGI. The ensemble cast is very notable here, and they give some terrific performances. To name a few: Fred Ward, Scott Glenn, Sam Shepherd, Dennis Quaid, Ed Harris, Barbara Hershey, Veronica Cartwright, and Pamela Reed. The cinematography is quite excellent, and overall the film really looks and feels as epic as its story. A main reason for this would have to be Bill Conti's rousing score, especially when the brass kick in, really leaving you stirred up. The film mostly uses it's long running time to great effect, giving tons of development to the characters, letting the story breathe, and keeping things from being even more rushed. That said, it does drag here and there at times, but the film also has a nice balance where tone is concerned, so there's a blend of humor, drama, adventure, etc. All in all, this is a fine film that, despite iffy history, is cinematically a high water mark for docudramas, and a great look at a wonderful moment in time.
Chris Weber
Super Reviewer
The Right Stuff Quotes
| | |
| --- | --- |
| Gus Grissom: | F#@%in-A bubba |
| Gus Grissom: | F***in-A bubba. |
| | |
| --- | --- |
| Gus Grissom: | "No bucks, No Buck Rogers." |
| Gus Grissom: | No bucks, No Buck Rogers. |
| | |
| --- | --- |
| Gus Grissom: | I did NOT do anything wrong. The hatch just BLEW. It was a GLITCH. It was a- a TECHNICAL MALFUNCTION. Why in hell won't anyone believe me? |
| Gus Grissom: | I did NOT do anything wrong. The hatch just BLEW. It was a GLITCH. It was a- a TECHNICAL MALFUNCTION. Why in hell won't anyone believe me? |
| | |
| --- | --- |
| Jack Ridley/Narrator: | There was a demon that lived in the air. They said whoever challenged him would die. Their controls would freeze up. Their planes would buffet wildly and they would disintegrate. The demon lived at mach 1 on the meter, 750 miles an hour, where the air could no longer move out of the way. He lived behind a barrier through which they said no man could ever pass. They called it the sound barrier. |