Riki-Oh: The Story of Ricky
(2002)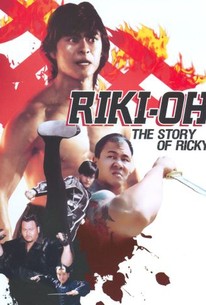 Riki-Oh: The Story of Ricky Photos
Movie Info
This offbeat action drama from Hong Kong stars Bin Shimada as Riki, a new prisoner at a high-tech penal institution of the future. Riki finds himself challenged by the prison's violent, corrupt guards, and when one of his friends is murdered by the jailers, Riki explodes into a fury of violence as he seeks bloody vengeance against all who would cross him. Riki-Oh: The Story of Ricky has won a cult following for its deliberately outlandish martial arts violence, in which Riki displays the remarkable ability to punch through his victims -- and even blow them up.
Critic Reviews for Riki-Oh: The Story of Ricky
Audience Reviews for Riki-Oh: The Story of Ricky
It may be a grateful attempt at being a visually advanced film at its time (which could be humorous and entertaining once you really get to think about it) the film does no good and ends up looking like a parody, or rather a slapstick of a martial arts film. Ricky-oh: the Story of Ricky is just as predictable and effortless as the effects and misdirections portrayed in the film. 1/5
Eugene Bernabe
Super Reviewer
Kevin Cookman
Super Reviewer
Absurdly over the top violence plus hilariously ridiculous dramatization and the result is quite a fun movie
Riki-Oh: The Story of Ricky Quotes
There are no approved quotes yet for this movie.