The Ring
(2002)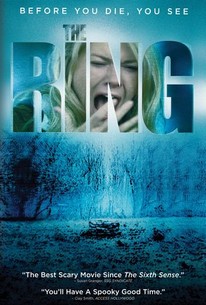 TOMATOMETER
AUDIENCE SCORE
Critic Consensus: With little gore and a lot of creepy visuals, The Ring gets under your skin, thanks to director Gore Verbinski's haunting sense of atmosphere and an impassioned performance from Naomi Watts.
Movie Info
A disturbing videotape appears to hold the power of life and death over those who view it in this offbeat thriller. A strange videotape begins making the rounds in a town in the Pacific Northwest; it is full of bizarre and haunting images, and after watching it, many viewers receive a telephone call in which they are warned they will die in seven days. A handful of teenagers who watched the tape while spending a weekend at a cabin in the mountains scoff at the threat, but as predicted, they all die suddenly on the same night. Rachel Keller (Naomi Watts), the aunt of one of the ill-fated teens, is a journalist who has decided to investigate the matter and travels West with her young son, Aidan (David Dorfman), a troubled child who has been drawing pictures of strange and ominous visions. Rachel managed to find the cabin in the woods and watches the video herself; afterward, she receives the same phone call, and realizes she must solve the puzzle of the video and the person or persons behind it within a week. Rachel turns to her ex, Noah (Martin Henderson), an expert in video technology, who at first is convinced the story is a hoax until he digs deeper into the mystery. The Ring was adapted from a 1996 Japanese film by Hideo Nakata, which became a massive box-office success in Asia and spawned two sequels. ~ Mark Deming, Rovi
Critic Reviews for The Ring
Audience Reviews for The Ring
½
A good horror film with a cool concept. Very creepy and a bit strange but it has a good mix of everything and is one of my fave horrors!
Let's face it, horror films are always going to get remakes. There is no way around that statement, because whether it was made in a foreign country and praised, or frankly just made as an American film 10 or 20 years ago, studios will always want to rejuvenate what made them buckets of cash in the past. There are cases like Blair Witch, where it was practically hated by everyone and was completely unnecessary, and then there are instances like Let Me In, where it does nothing to diminish the original, but its sole mission is just to bring its story over to another language and display a great story for a wider audience. That is exactly how I feel The Ring was handled back in the day, and still remains to be one of the better horror remakes. What makes these remakes less special, will always be their need to follow the original beat for beat. Yes, this film was pretty much just a translation from the Japanese version, but when it begins and ends almost in replication, it can be a little predictable for viewers who have seen the original. Once again following a woman who has watched a video tape and receives a phone calling telling her that she will die in seven days, a mystery begins to unfold about whether or not it's true. There are certain additions that I thought added some terrific tension, specifically the fact that the drawings aspect was handled in much more detail here. Sadly, almost every enjoyable aspect of this film has already been done before. While I will defend this film for being extremely effective and will defend anyone who calls this their favourite horror film, the portions that are meant to frighten audiences, are done in a way that is not quite as scary as the Japanese film, Ringu. The close-ups done in that film, relying solely on what could be done to the human body in order to terrify people, was truly scary. This time around, prosthetics are used on everyone and it took away from something that I found to be scarier in the past. Having said all that, the cinematography, along with the prosthetics and top-notch effects for its time, really does make this a worthy remake. When this film was released back in 2002, Naomi Watts barrelled onto the big screen, all guns blazing. Her shrieks and frightening faces truly made you feel as though you were watching someone go through these horrible events. I think they casted the perfect person to portray the leading lady here. I may not be a hug fan of horror films, but I can certainly recognize when they are done with class. The Ring casts the right talent to play off of each other, so that when the terror does happen, it feels genuine. Like Ringu, everyone on-screen seems to be giving their all and truly caring about the characters they are portraying. In the end, all this film really needs to do is tell the story of Ringu in a classy way that would bring in a new audience and please fans of that original film as well. Personally, The Ring does just that and really does make for a creepy film overall. Not comparing this to the film that proceeded it, this film truly is something special for the horror genre. Instead of slashing up people in the woods or playing mind games with someone, The Ring takes its time to build tension so that you feel the payoff works in the final act. I love the original, so due to the fact that it is a little too similar to the original and doesn't try enough new things, I can call this a very solid film. Yes, I feel the same way about films like The Girl With The Dragon Tattoo. Still a great film on its own, but it wouldn't exist without the original.
½
Naomi Watts makes a good performance, but overall this movie is very disappointing. The story is rather predictable other than the plot twist at the end, but the direction of the movie makes the surprise all the less surprising. From the beginning when the two young girls are teasing each other about the urban legend about the tape, you're given the clue the director is going to tease you by presenting suspense only to turn around and say everything is just a joke. The buildup is somewhat entertaining but the conclusion is quite rushed and leaves you with an empty feeling. The relationship between the characters is almost nonexistant, you're given no indication of any connection between Rachel and her son other than she's his mother. Most of the interaction occurs between Rachel and Noah, but even that relationship is distant and uninteresting. I found the Japanese version to be much more scary and enjoyable. 2 1/2 Stars for the USA version. Updated 2-16-2004
Bruce Bruce
Super Reviewer
The Ring Quotes
| | |
| --- | --- |
| Dr. Grasnik: | It means ever since that girl's been gone, things have been better. |
| | |
| --- | --- |
| Samara: | [singing by the well] : Here we go, the world is spinning. When it stops, it's just beginning. Sun comes up, we all laugh. Sun goes down, we all die... |
| | |
| --- | --- |
| Becca: | You start to play it and it's like somebody's nightmare. And then this woman comes on, smiling at you, right? Seeing you... through the screen. Then when it's over, your phone rings, someone knows you watched the tape... and what they say is, "You will die in seven days". |
| | |
| --- | --- |
| Noah: | I can't imagine being stuck down a well all alone like that. How long could you survive? |
| Rachel Keller: | Seven days. |