Ringu (Ring)
(1998)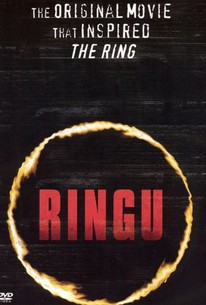 TOMATOMETER
AUDIENCE SCORE
Critic Consensus: Ringu combines supernatural elements with anxieties about modern technology in a truly frightening and unnerving way.
Movie Info
In this psychological horror story from Japan, a legend circulates among teenagers that if one watches a certain video at a certain time of the night, the telephone will ring right afterward, and one week later, you will die. When Masami (Hitomi Sato) tells her friend Imako this story, she scoffs -- but a week later, Imako dies. Imako's aunt, a television journalist named Reiko (Nanako Matsushima), hears that not long before she died, Imako was watching a strange video with her friends -- all of whom have turned up dead. Reiko tracks down a copy of the video, and as she watches its strange, spectral images, the telephone begins to ring....The next morning, Reiko begins a desperate search to solve the mystery of the video, convinced she has only seven days to live; assisting her is Ryuji (Hiroyuki Sanada), a mathematics expert and her former husband. Ringu was a box-office success in its native Japan, and a surprise blockbuster in Hong Kong, where it became the biggest grossing film of the first half of 1999. ~ Mark Deming, Rovi
Critic Reviews for Ringu (Ring)
Audience Reviews for Ringu (Ring)
½
When it comes to original concepts and practical effects, you truly can't get better in the horror genre. Those two elements are what make the best horror films out there, period. Sure, CGI can help move a story along nowadays, but when something is done for real in front of the camera, there is just something special about that. Revisiting the original film that started it all (Ringu), I was reminded of just how terrifying this film was at the time. Still to this day, the build up is extremely effective and the imagery is insanely creepy. Here is why I think Ringu is one of the greatest horror films of all time. Aside from the recent gems like Don't Breathe or The Babadook, the horror genre is one of the worst genres out there today. Sure, they still make loads of money at the box office, but 75% of the horror films produced nowadays are based off of pre-existing material. At the time, the concept of Ringu was 100% original and it still sends chills down my spine. Following a few select people who have viewed a video tape that states you will die one week after viewing it, this film tries to solve the mystery of whether or not it's true and how it's preventable if it is. For its time, this film's slow-burn really works in its favour. There are many moments of terror that genuinely hold up even to today's standards. Normally a horror films relies solely on its scares in order to impress its audience. Having said that, sometimes that works in cases like Paranormal Activity or The Blair Witch Project. Sometimes a film is just out to scare you, leaving out substance, which works very rarely. For a film like Ringu, substance was the key to making a terrific film. The interaction between Nanako Matsushima and Hiroyuki Sanada was astounding and I believed every word they said to each other. Their chemistry is off-beat and it really works for the tone of this film. There are many moments that make this film feel like a slow moving drama, which makes it even more impactful when the scares finally occur. Most horror films focus on CGI trickery to scare the audience nowadays, but back in the day, practical effects are what made things even scarier, because they seemed tangible. There are quite a few moments throughout Ringu that the filmmakers should still be patting themselves on the back for 19 years later.From the sound effects that are overused today, to the close-ups that make you want to turn your head away from the television, this film really knew how to get its audience, and revisiting this film in 2017, I am still just as terrified. This film is incredibly effective. In retrospect, a film like this should easily date itself after almost 20 years, but it still remains the best in the long line of sequels, remakes, and reboots that it has had. Ringu remains one of my favourite horror films for building up its story and sprinkling in a few spine-tingling thrills throughout the film and never blowing its load early. Sure, the premise itself is a bit silly, but if you can buy into the mythology of it, it's a damn effective horror flick. I have never been a huge fan of the horror genre, so when I praise a film for being scary, I feel like I am making a bigger statement than most. Ringu still terrifies me to this day and I highly recommend it if you haven't checked it out yet.
½
With a bizarre and creepy idea involving cursed technology, this is a very effective horror movie that manages to be tense and disturbing as time starts to run out for the characters, and it has a terrifying scene in the end that should raise every single hair on the back of our neck.
Carlos Magalhães
Super Reviewer
½
[img]http://images.rottentomatoes.com/images/user/icons/icon13.gif[/img] It's saying something that most people would find peculiar, but I found Ringu to be very problematic and consequently inferior to Gore Verbinksi's American remake "The Ring". One of the difficulties with inspirations and remakes is you have to consider which film is superior, but sometimes it's just a matter of which film you saw first and strangely enough I couldn't decide if it was the fact that I saw 2002's The Ring before Ringu that altered the experience or whether it's down to the fact the film simply isn't as eery or atmospheric. I think the idea of Ringu is absolutely genius and inspired The Ring to go further with the premise but I felt it was more compassionate and less isolating than Verbinski's film, and it hasn't aged very well either. The remake also added some shocks to the story, Ringu has dissapointingly near to none, and I found this version ashamedly dull. I'd definetely be lying if I said that there's nothing redemptive in it whatsoever, the acting is decent, as is the script and direction, I didn't think the lighting worked very well, but if you haven't seen the 2002 version then you will probably enjoy Ringu more than I did. That said, i'd recommend it to those who haven't seen the remake as I would recommend the remake to those who haven't seen the original. It's a strange horror movie going experience when you get the weird sensation of deja vu, because the remake looked to me like it duplicated this almost entirely frame to frame. The Ring (2002) is one of the scariest films i've ever seen, maybe that's why this one didn't live up to my own personal expectations.
Directors Cat
Super Reviewer
Ringu (Ring) Quotes
There are no approved quotes yet for this movie.