Ringu 0 (Ringu 0: Bâsudei)
(2000)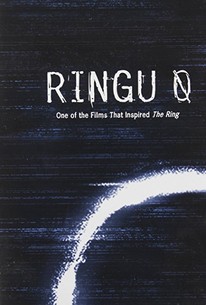 AUDIENCE SCORE
Critic Consensus: No consensus yet.
Movie Info
Following the phenomenal success of Ringu and Ringu 2 -- films about a malevolent spirit named Sadako residing in a videotape that kills all who watch it -- Norio Tsuruta directs and Masato Hara produces this prequel to the two horror blockbusters. As a child, Sadako (Yukie Nakama) became increasingly aware of her unusual supernatural powers, inherited from her professional psychic mother. One day in 1957, Sadako's mom gives a public illustration of her uncanny abilities. When a reporter casts aspersions on her talents, Sadako strikes him dead without touching him. Sadako's mom commits suicide as a result of the incident and Sadako develops a split personality. Years later, Sadako is trying to put the pieces back together, working as an intern at a Tokyo theater company. Radiantly beautiful, she grabs the attention of both the company's debauched director and handsome fellow intern Toyama (Seiichi Tanabe). One day, the lead of the new play suddenly keels over and the director casts Sadako as the star, raising the eyebrows of many in the crew and of a young reporter (Yoshiko Tanaka) whose fiancée was the journalist she killed years ago. When the director tries to rape her, he too dies a horrible death. Soon her co-worker begins to wonder if she is a sociopathic murderer, or the victim of powers beyond her control. ~ Jonathan Crow, Rovi
Critic Reviews for Ringu 0 (Ringu 0: Bâsudei)
All Critics (2) | Fresh (1) | Rotten (1) | DVD (1)
for about 20 minutes, we've got a cool little thriller on our hands
August 28, 2005 | Rating: 2.5/5
It's both moving and scary, with characters the viewer can genuinely care about.
Audience Reviews for Ringu 0 (Ringu 0: Bâsudei)
½
More of a supernatural drama than anything else. It's a valiant effort to fit the film storyline to the storyline of the novels, but to be honest I'm not sure it worked all that well. As much as I hate to admit it, I found it rather dull for the most part. I'm not surprised Sadako's so pissed off.
½
Ringu0 is haunting and beautiful. It's definatly the most seriously dramatic and passionate of the ring films. Saadako is represented as a person here with a dark side. But also a wanting side that wants to be forgiven and accepted and most importantly loved for her uncontrollable actions. Their are strong performances and the a vivid and secret spouting storyline that makes you look at each film completely different. In an age of mindless sequels Ring 0 is a perfect film. It balances horror with beauty and love with hate. The film is as much a tear jerker as a screamer. And the true story of what happened will stay with you!
Cassandra Maples
Super Reviewer
I loved this film. It plays like a Greek tragedy that makes you really sympathize with Sadako. She wasn't always an unstoppable killing machine. Not only that, it has two scares that would surely go down in my top-ten best horror movie moments of all time.
Edward Boxler
Super Reviewer
Ringu 0 (Ringu 0: Bâsudei) Quotes
There are no approved quotes yet for this movie.