Rio
(2011)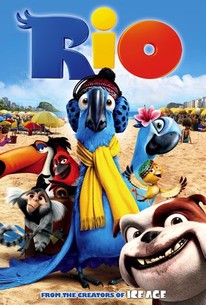 TOMATOMETER
AUDIENCE SCORE
Critic Consensus: This straightforward movie reaches great heights thanks to its colorful visual palette, catchy music, and funny vocal performances.
Movie Info
From the makers of the hit Ice Age series comes Rio, a comedy adventure about taking a walk on the wild side. Blu is a domesticated Macaw who never learned to fly, living a comfortable life with his owner and best friend Linda in the small town of Moose Lake, Minnesota. Blu and Linda think he's the last of his kind, but when they learn about another Macaw who lives in Rio de Janeiro, they head to the faraway and exotic land to find Jewel, Blu's female counterpart. Not long after they arrive, Blu and Jewel are kidnapped by a group of bungling animal smugglers. With the help of street smart Jewel, and a group of wise-cracking and smooth-talking city birds, Blu escapes. Now, with his new friends by his side, Blu will have to find the courage to learn to fly, thwart the kidnappers who are hot on their trail, and return to Linda, the best friend a bird ever had. -- (C) Fox
News & Interviews for Rio
Audience Reviews for Rio
Rio follows the story of a blue macaw named Blu (Jesse Eisenberg), being the last of his species who is taken to Brazil to mate with another found female Blue Macaw named Jewel (Anne Hathway,) to restart the breed of macaw. The two are somehow kidnapped and discover that they are going to be sold for a major fortune. The two escape after the kidnappers bird Nigel (Jermaine Clements) accidentally takes his eye off them for too long. Now the two birds have to learn how to get along and find there masters and restart the race of Blue Macaw. Rio has probably some of the best animation I've seen in a while. This animation seriously matches up with Illumination studios and Dreamworks, and that's saying a lot from the people who made Ice Age, Robots, and Horton Hears a Who. The colors and lighting in this film really do shine and make this probably one of the most vibrant looking animated films I've ever seen, and in 3-D this film just looks incredible and just pops out. The animation and lighting for the musical numbers also pop and look just as vibrant and colorful as say Cats Don't Dance, or even some Disney movies like Oliver and Company. Now in terms of animated films voice acting is one of those delicate things that has to be held with caution. Now animated films have done poorly in terms of entertaining me when it comes to the voice acting, *FLAME SHIELD* such as Happy Feet, with some of the most annoying singing voices and voices i've heard in an animated film. Or Hoodwinked Too Hood vs. Evil, which has probably the most obnoxious villain voices in the world not to mention one of the worst and most obnoxious animated film plots of all time. But thankfully, Rio doesn't fall in this category in the slightest, in fact without a lot of these voices, I couldn't see this film doing that well. Anne Hathaway, Jesse Eisenberg, Will. I. Am, Jamie Foxx, Jermaine Clements, George Lopez all do incredible jobs, and without these voice actors, the songs in this movie would be nowhere near as good as they were. Each voice was picked very well and just match these characters very well, unlike the Blue Sky movie Robots, which many of the voices just seemed to be picked due to how popular these actors were and not due to how well their voices suited the characters and were just flat out annoying and forgettable performances *CoughHalleBerry CoughPaulGiamatti.* Now the musical numbers.....MY GOD!!! This movie has probably the best original soundtrack I've ever heard in a film in my entire life. The energy, the lighting, the vocals, they just are all blended together perfectly in these musical numbers and truly just match the environment in this film and just look and sound incredible. Special mention to my favorite song in the film being hot Wings done by Jamie Foxx and Will. I. Am. The sheer look and energy put into this musical just show how much effort these animators put into this film and how much effort that Foxx and Am put into this song and how much fun they clearly had working on this. Also Anne Hathaway already being a great singer does a great job singing with Jesse Eisenberg who up to this point hadn't had little to no singing experience. The only real song I didn't like was surprisingly Nigels song, done by Jermaine Clements. The main reason I find this shocking being the fact that Clements is well known as being one of the lead singers in the duo singing group The Flight of the Conchords, and does have professional singing experience and has for a while, but his song just really annoys me and I don't really see much of a beat in this song. But other than that song these songs are the best I've heard in a film in a while if not of all time. Overall Rio is like its music, beautiful, entertaining, colorful, and well sung. I highly recommend this movie to anyone who loves vibrant musicals or just fans of animation in general, you will not be disappointed.
Michael Edwards
Super Reviewer
A cute, entertaining yet forgettable animation with too many clichés and whose charm lies in its exuberant visuals and an exotic (but clichéd) composition of a Rio de Janeiro full of samba and colors. It is only sad, though, that the story is so conventional and never more than ordinary.
Carlos Magalhães
Super Reviewer
½
Sweet and innocent all around, "Rio" is the type of kids film that usually only comes around once or twice a year, and is both equally for children, teenagers, and adults alike. Although the feel of the picture is very childish, but the heart and motives behind each character, whether or not it is an animal or human, feels very genuine. The story follows one of the two last Blu Birds in the country, and they must be united to birth new life into their species. Many lessons will be learnt for kids and many emotional moments and adult humour will be shared for adults. It's not groundbreaking animation, but it is beautiful to look at as always, and it's a very fun film to boot. I will remember this short a sweet story for years to come, and recommend it to families of all ages. "Rio" is a lot of fun!
Rio Quotes
| | |
| --- | --- |
| Blu: | That human has given me love and affection for the past 15 years while my own kind try to strangle me after 15 seconds. |
| | |
| --- | --- |
| Nigel: | Whats wrong...Cockatoo got your throat |
| Nigel: | Whats wrong? Cockatoo got your throat? |
| | |
| --- | --- |
| Jewel: | [running with chain on Her and Blu's ankle] OH this is just GREAT I'm chained to the ONLY bird in the world who CAN'T fly |
| Blu: | [offended] Not true! There are many different types of species. |
| Jewel: | [noticing an obstacle] Duck! |
| Blu: | No, ducks can fly |
| Jewel: | NO! DUCK! [they duck down] |