Rio Lobo
(1971)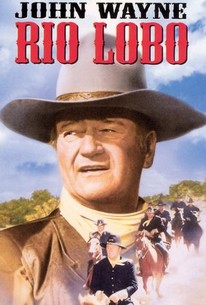 TOMATOMETER
AUDIENCE SCORE
Critic Consensus: Howard Hawks and John Wayne reunite to riff on their own Rio Bravo, and while the results are less memorable the movie does offer a curiously cynical perspective.
Movie Info
John Wayne, in the last of his Civil War characterizations, portrays Cord McNally, a Union Army colonel who loses a gold shipment in a Confederate raid, during which a devoted young officer is also killed. After the end of the war, McNally bears no ill-will toward the leaders of the raid, Pierre Cordona (Jorge Rivero) and Tuscarora Phillips (Christopher Mitchum), who were acting as soldiers, but he still wants the two unknown men on the Union side who they say sold them the information about the gold shipments. A year later, McNally crosses paths with one of the men, now a deputy from Rio Lobo, who is about to take Shasta Delaney (Jennifer O'Neill), a seemingly innocent young woman, out of a neighboring town at gunpoint. A shootout ensues, in which McNally's man and three other Rio Lobo deputies are killed, with help from Cordona -- this makes McNally very interested in what's going on in Rio Lobo, and he decides to go there with Cordona and Shasta. They find a whole community under siege from their own sheriff, a sadistic ex-outlaw named Hendricks (Mike Henry). What follows is a series of confrontations and revelations that are alternately suspenseful, sadistic -- with maimings worthy of a spaghetti western and characters even getting blown to bits -- and even occasionally comical. But the pieces all tie together very neatly, despite a convoluted plot that's sort of Rio Bravo (made 11 years earlier, also starring Wayne and directed by Hawks, and scripted by Leigh Brackett) turned sideways and readjusted to a more cynical era.
Critic Reviews for Rio Lobo
Audience Reviews for Rio Lobo
½
Not in the same league as Howard Hawks' masterpiece Rio Bravo, or the excellent El Dorado, Rio Lobo is still an overall good western. The weakness of the overall cast is lifted, as happens often, by Wayne.
Jeffrey Meyers
Super Reviewer
½
Kind've just a better version of True Grit, aside from the slightly better performance from The Duke. While this isn't Howard Hawks' greatest movie, it's certainly a great way to go out. This has some real differences from his other work, especially the opening. It's got all the charm and wit necessary for a Howard Hawks vehicle. He made some of the most lovable movies to ever exist and this is no exception.
Conner Rainwater
Super Reviewer
While hardly the most auspicious of swan songs, Hawks? underrated final film sees a reprise of some of his favorite themes ? including the siege/hostage exchange situation from RIO BRAVO (1959), a Western he had already partially remade as EL DORADO (1966); incidentally, John Wayne starred in all three titles. It opens with an elaborate gold shipment robbery from a moving train by Confederate soldiers; Wayne is a Unionist Colonel who goes after the culprits but, the war over, befriends ?enemies? Jorge Rivero and Chris Mitchum when they reveal the identity of a couple of Yankee traitors ? one is a deputy sheriff and the other an unscrupulous landowner (Victor French). The film shares its partnership-between-Union-and-Confederate-soldiers angle with Wayne?s earlier Western THE UNDEFEATED (1969) ? but, Hawks being Hawks, it?s presented here in a far more complex (and rewarding) manner. As is usual for the director, a spirited female protagonist is thrown into the fray ? in this case, Jennifer O?Neill as a traveling-show performer who falls foul of French and his dastardly sheriff (Mike Henry); of course, she becomes romantically involved with Rivero ? a situation Wayne observes with bemusement. Jack Elam is a delight as Mitchum?s trigger-happy coot of a foster parent, making him an ideal replacement for the Walter Brennan of RIO BRAVO. The film also features an unusually wistful score for a genre effort courtesy of Jerry Goldsmith. All things considered, however, RIO LOBO still emerges as the least of the loose Wayne/Hawks Western trilogy: this is chiefly due to severe undercasting when compared to the earlier efforts ? with, say, Rivero being no match for James Caan from EL DORADO. Though a lot of exposition is necessary for the various plot threads to fall into place, the film (co-scripted by Hawks regular Leigh Brackett) provides plenty of action throughout its almost 2-hour length. The climax is exciting and well-staged, and includes the revenge on Henry by a young girl he has viciously scarred for life (played by Sherry Lansing, future head of the Fox and Paramount studios and currently Mrs. William Friedkin) ? which, however, calls for O?Neill to be virtually absent from these final stages and the film to end abruptly (albeit on a running joke involving Wayne)! Unfortunately, too, the DivX copy I watched proved rather hazy and suffered from occasional compression artifacts.
Cassandra Maples
Super Reviewer
Rio Lobo Quotes
There are no approved quotes yet for this movie.