Riot in Cell Block 11
(1954)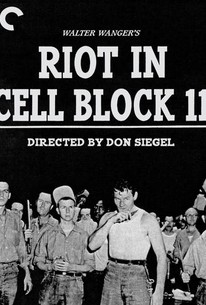 Riot in Cell Block 11 Photos
Movie Info
In this prison film, Neville Brand plays a "lifer" who leads his fellow prisoners in revolt. Surprisingly, they don't want to escape -- they just want better living conditions. The parallels between this fictional story and the much-later convict uprising at Attica is underlined when Brand begins manipulating the media.
Critic Reviews for Riot in Cell Block 11
Audience Reviews for Riot in Cell Block 11
Some inmates in a prison facility feel mistreated and so stage a benevolent coup in the hopes of alleviating their unhappy conditions. We jump pretty much right into the action and, while the work sports that patented 1950's "just the facts, m'am" style that always threatens to reduce everything to bland sermonizing, the film stays fresh with the portrayals of the convict leaders and their attempts to control a riot to a positive outcome ... While not killing each other in the process.
Kevin M. Williams
Super Reviewer
Although technically a "B" picture, there is an underlying call for humanity in relation to prison life at the heart of this armed uprising. One wonders what kind of an impact this film had on prison conditions in the U.S. or was it merely seen as an entertaining flick.
John Ballantine
Super Reviewer
½
[font=Century Gothic]Directed by Don Siegel, "Riot in Cell Block 11" is a taut and earnest social drama about a prison riot set off to demonstrate the poor conditions and overcrowding in a prison. One of the convicts' demands is to learn a trade which would aid them once they are released. In short, the convicts simply want to be treated like human beings. Is that too much to ask? A sympathetic warden(Emile Meyer) is patient in wanting a peaceful end to the situation while the convicts are led by two hard cases, Dunn(Neville Brand) and Carnie(Leo Gordon), while The Colonel(Robert Osterloh), formerly a decorated officer, just wants to sit it out, hoping not to ruin his chances at parole. So, while no sides are taken in the movie, it is distressing how often the word psychopath is bandied about. [/font][font=Century Gothic][/font] [font=Century Gothic][/font] [font=Century Gothic]Prison reform is still a valid concern and like the film says, not enough information is given to the public. Part of this comes from politicians, not wanting to be accused of being soft on crime. For example, look at the accusations made against former governor Nelson Rockefeller concerning the convicts' deaths at the Attica riot of 1971. For this reason, I find it hard to believe that the warden would not have done a better job of keeping the press at bay, instead of allowing photo opportunities with the convicts. What certainly surprised me about "Riot in Cell Block 11" is how integrated the cast is for a movie made back in 1954.[/font]
Riot in Cell Block 11 Quotes
There are no approved quotes yet for this movie.