Rip It Off
(2003)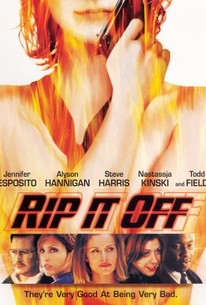 AUDIENCE SCORE
Critic Consensus: No consensus yet.
Movie Info
Misha (Nastassja Kinski) and Lexi (Alyson Hannigan) have a falling out with their scummy Russian boyfriends on the eve of a big heist. With the help of Helena (Jennifer Esposito), who despises her nerdy detective husband (Todd Field), the women arrange to rob the casino themselves. Which, of course, cheeses off the blood thirsty Russian ex-boyfriends. To complicate matters, Helena's husband gets in on the heist without her knowing it.
Critic Reviews for Rip It Off
There are no critic reviews yet for Rip It Off. Keep checking Rotten Tomatoes for updates!
Audience Reviews for Rip It Off
The title is appropriate, except you need to remove the "It". Where does one begin with a film like this? I really can't understand how so many talented young actors were suckered into doing this awful heist film. It was amateurish from end-to-end, low-budget, with a horrible script, thin plot, and not even Alyson Hannigan and her comrades could save this film. The mistakes started with the script and just get worse. There's absolutely no believability to any of it, and the set up of a revenge heist is preposterous. The characters, situations, and sequences are completely unbelievable, although they tried to make it cool with artsy camera work. Instead it's shot like a bad TV show (many of the actors involved were Buffy regulars) That's still not a reason to watch this. No one gets any good lines and it's completely predictable throughout and beyond the final shootout. Though the film has many nice looking female actresses, it's not even exploitative enough to watch it for the usual nudity. (There's about ten seconds of it) The thing must have been written by committee because it can't stay on one narrative at a time. This will be one film that Alyson Hannigan and others will look back and laugh about. It's simply not worth your time. Bad script, bad acting, bad plot, bad camera work, and a complete waste of time and talent. You're not missing anything. If you've seen it, I'm sorry for you.
Rip It Off Quotes
There are no approved quotes yet for this movie.