Rise of the Footsoldier
(2007)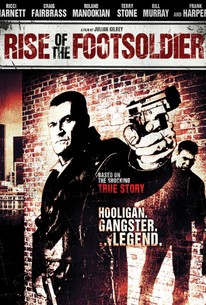 Rise of the Footsoldier Photos
Movie Info
Julian Gilbey's fact-based crime saga Rise of the Footsoldier traces one man's meteoric ascension from a lucrative soccer career, through the ranks of organized crime, to the status of Britain's most omnipotent drug lord. The tale begins in the 1970s, when hooligan Carlton Leach (Ricci Harnett) finds himself implicated in a series of violent skirmishes on the soccer fields of England. Prompted to leave this activity and enter another trade, Leach self-incorporates as a company called ICF - a front for the young entrepreneur's drug-dealing activities. Soon, Carlton's business flourishes - first with cocaine, then with ecstasy and heroin (as time rolls forward from the self-serving 80s into the 1990s), but with it comes severe addiction and, disturbingly, wave after wave of nerve-wracking violence. More hardened, more severe criminals turn up to do business with Carlton's associates, forcing Carlton to recruit tougher and more psychopathic elements to protect himself - particularly when the goods from a heroin shipment disappear and Turkish thugs begin closing in.
Critic Reviews for Rise of the Footsoldier
Audience Reviews for Rise of the Footsoldier
A pretty good film, The half hour was the best for me and then it just kind of got very dark and pretty gruesome at times, I know it was based on true events so they couldn't really change it, Worth a watch if you like british gangster films.
Jamie Clarke
Super Reviewer
½
This film is certainly more in your face than a lot of British Gangster films and obviously based on a true story (some people may remember links from the film ?Essex Boys? although, a lot of that film was fictional). I suppose we hear a lot about East End gangster, or London Gangsters in general, but not so much about the Essex underworld. When casting for this film they didn?t exactly choose Actors who resembled the characters in looks, particularly in the case of Carlton Leach and the low budget shone through at times, particularly with the wigs, but it?s a brave attempt for a film of it?s genre and extremely informative if you are a fan of true crime stories. Some pretty shocking scenes (in terms of real life violence) from start to finish.
Lady D'arbanville
Super Reviewer
A truly horrible film on all levels. It starts off as some Football Factory wannabe following the exploits of some very unlikeable bloke who just swears, womanisers, doesn't do drugs but then does and uses excesive violence because his flowers didn't bloom this year or something. The film is so uninspired it decides to just cast people from Football Factory. At some point while I was laughing at this films attempts to be 'hard' it turned into a gangster film with the main character thrown out and now following even less liekable chaps. Though I'm confused because one of the truly horrid gentleman wasn't so bad before but now the main character is the voice of reason without any explanation to this sudden change. Violence tries hard to be shocking but just increases this embarrassment of British cinema. I don't demand people must be good but they should have some humanity, especially when it gets to the point where I don't care if these gangsters families are killed by other gang members, let 'em.
Luke Baldock
Super Reviewer
Rise of the Footsoldier Quotes
There are no approved quotes yet for this movie.