Rise of the Planet of the Apes
(2011)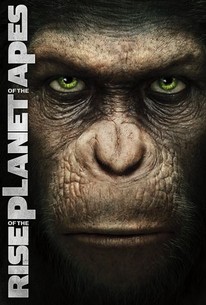 TOMATOMETER
AUDIENCE SCORE
Critic Consensus: Led by Rupert Wyatt's stylish direction, some impressive special effects, and a mesmerizing performance by Andy Serkis, Rise of the Planet of the Apes breathes unlikely new life into a long-running franchise.
Rise of the Planet of the Apes Photos
Movie Info
A single act of both compassion and arrogance leads to a war unlike any other -- and to the Rise of the Planet of the Apes. The Oscar-winning visual effects team that brought to life the worlds of Avatar and Lord of the Rings is breaking new ground, creating a CGI ape that delivers a dramatic performance of unprecedented emotion and intelligence, and epic battles on which rest the upended destinies of man and primate. -- (C) Official Site
Critic Reviews for Rise of the Planet of the Apes
Audience Reviews for Rise of the Planet of the Apes
½
I haven't seen any of the other Planet of the Apes movies, but from what ive heard of the plot of those movies, this movie, though it has the name "Planet of the Apes" in its title, it is almost not connected to the others. It bares the same main monkey from the other films but it has a very different ending than how the human race went extinct in the older films, but I'm not gonna spoil it. I have to say one thing about this movie, you will never look at monkeys the same way, because these monkeys, THESE MONKEYS ARE F*CKING SCARY!!!! Seriously, next to "Cowboys and Aliens" I have not jumped out of my seat this much this year, And all that is pulled off wonderfully by Andy Serkis, who was the cg model inspiration and voice for King kong in the 2005 remake, and for Gollum/Smeagol in the Lord of the Rings trilogy, and here it is no exception. James Franco (Spider-man trilogy, 127 Hours) also does a fantastic performance as the main character, a scientist who tests on chimps who finds the cure for Alzheimer's by making a type of drug that will rebuild brain cells and he tests this on monkeys making them much more intelligent and on his father, John Lithgow (Shrek) who is dying of the disease. There are also several well pulled off cameos or somewhat bit parts for this movie, if you guys are fans of Harry Potter it has the same guy who plays the douche-bag Draco Malfoy, and guess what he's even worse in this film, and for you X-men fans, it has the dude who plays Stryker in this film. The action is also very well pulled off, there isn't much but when it starts happening, it is fantastic. The film does have one real big flaw to me, the film just starts to lose its edge after the first 40 minutes, but that's not a bad thing, it doesn't ruin the film, it just slows the film down a bit, but it just lowers the rating of the film from a 4 out of 5 to a 3.5. Its definitely not the worst film ive seen this year, but im just saying it is pretty slow for 1 hour and 43 minutes. Also don't take a younger child to see it because, 4 of the trailers that play made me jump out of my seat, so it'll make your little kids have the crap scared out of them before the movie even starts. Also the music is fantastic in this movie, it isn't very noticeable at firsts, but near the end it gets really fast paced and awesome to listen to. So if you guys are looking for a different change of pace for a summer movie check this film out, its not great, but its popcorn entertainment. My rating 3.5 *s out of 5
Michael Edwards
Super Reviewer
½
The only 'Planet of the Apes' franchise film I have ever seen is the Burton 're-imagining' and I quite like that version as it was visually stunning and a good fun adventure. Right from the start you could tell this new film was a completely different animal altogether...no pun intended. The comicbook-ish approach has gone and we now have a much more serious sci-fi on a grander more epic scale. The visual effects on the apes during the character build up and introduction of 'Caesar' was slightly off in my opinion, it was good but there wasn't much of a wow factor going on. The faces did look a bit plastic and too obviously CGI, but as the film progresses and the apes become more aware with Caesar growing in intelligence, it seems the CGI gets better at the same time. By the time Caesar is really plotting his escape and takeover the CGI on his face and entire overall body movement is really quite impressive. This goes for all the other chimps and apes too, especially the gorilla and orangutan which really look fantastic up close along with their body and hand movements. The plot is decent and a good ride, it starts off slow no doubting that, and there is a lot of character and story building with the experiments and slow evolution of Caesar. At first I was getting a little twitchy I must admit but the story does eventually get a hold of you and I did find myself really getting into it quite quickly. What is nice is the fact they have tried for a clean reboot with a fresh new plot, sort of. Instead of just remaking the original films they have gone with a new approach that has ties with the original films (mainly the fourth one), thus giving a relatively new and fresh aspect to the franchise which was important. Honestly the human side of the film is rather boring with Franco and Pinto not really gelling whilst Cox and Lithgow are merely background props (good props I might add) which disappear very quickly. Its all about the apes and for most of the run time your just itching for those apes to break free and kick some homosapien ass! When they eventually do its well worth your money as the finale will get your heart pounding as you cheer for the apes to reach freedom. Those damn dirty humans are in their way but luckily we see some great man stomping...but with intelligent action. What was impressive was how Caesar would not let his fellow primates kill humans needlessly, of course a few do bite the dust but if Caesar was around he didn't want it. Whether that is to show he has evolved and won't sink to that level or the creators just wanted a family friendly film rating I don't know, but it worked well as a character development for the main ape. The finale is really the cherry on the icing on the cake! a full blown Hominidae rampage through San Francisco with lots of very well realised chimps, one gorilla and an orangutan. It is good that the film doesn't resort to lots of guns and masses of apes being killed, there is a small element of that but it doesn't get over blown with silliness which is good to see. One or two moments of Hollywood craziness perhaps, when the gorilla leaps onto a chopper from the Golden Gate Bridge, and the use of that certain iconic piece of dialog (again!), does that really need to be used again simply because its a 'Planet of the Apes' franchise film? One of the best films of the year so far for sure, its actually been constructed with some level of intelligence behind it creating a solid foundation. Fits in well with the original franchise films, a decent musical score to evoke emotion with heights of achievement and it has a good ending...although slightly leaning towards a roaring iconic '2001: Space Odyssey' grandiose type finish. kinda manages it to believe it or not!
Phil Hubbs
Super Reviewer
Planet of the Apes is a franchise that has been around for a very long time. From a fantastic original back in 1968, to spawning sequels ranging from good to downright unwatchable, to a terrible remake back in 2001, this franchise has been all over the spectrum in terms of watchability. At the time of release in 2011, I really don't believe many people were clamouring for yet another reboot of this concept. Then it was announced to be a prequel series, which worried me even more, as it seemed the studio was desperate for a new concept. That being said, this is one of the best prequels I've ever seen and the series only got better from here. Here is why Rise of the Planet of the Apes was a great idea back then and why it serves as an incredible idea still to this day. From the mere idea of this film, it was a risky gamble. For a franchise that started many years ago and failed so recently, it was a large wonder as to why they were deciding to bring this franchise back into the spotlight. Sitting in the theatre almost six years ago, this film opened my eyes in ways that I wasn't expecting. Dealing simultaneously with human issues in cancer and survival, while dealing equally with the torture that caused these apes to go crazy on the human race, there was a real sense of purpose for this film to exist. Getting to see how exactly these apes will be able to speak and learn in the future was a very well done aspect of this first film, also adding some great tension along the way. Easily the best aspect about this film was the relationship between Caesar (performed by Andy Serkis) and his adoptive guardian Will (played by James Franco). James Franco was a strange casting at first, because it didn't seem like the type of franchise that he would comfortably fit into, but I was completely wrong with that judgement. His adoption of Caesar, morphing into a relationship of a loveable pet, only to devolve into a hatred, this endearing relationship just goes to show how much love can truly mean nothing unless you fight for what you believe in. This is the core story of the film for sure, but I truly think this film wouldn't have worked as well without this genuine human connection with these apes. Although fictional, this film goes a very good job in making this a believable premise. There truly aren't any big flaws with this film, but it's almost too straight forward to have the right amount of depth. In the grand scheme of things, this is a film that could've easily become convoluted in trying to connect every one of its storylines in order to stay in line with the original classic, but it happily stays on its own as a standalone beginning to a new trilogy of films. This truly is the story of how Caesar will evolve and eventually lead the apes to take over the planet. While there are side plots occurring throughout the majority of this picture, that's the core story through and through. Nothing else is needed here in my opinion, because it really just wanted to be a fresh starting point for a new, epic trilogy of films. This could also be seen as a negative, as the film doesn't take many risks in exploring anything more, but I felt that was a gutsy positive in the end. On a mere $93,000,000.00 budget, they played it safe, and while it wasn't a box office smash, its fanbase has been growing ever since (myself included), due to the quality of filmmaking put into it. In the end, you can pretty much call the beats of this film and there are a few throwback moments for the classic fans, but Rise of the Planet of the Apes is still as fresh as ever, and serves as an even better film after watching the 2014 sequel and the upcoming conclusion. War for the Planet of the Apes hasn't quite released yet, but this is shaping up to be one of the best trilogies in recent memory. Most trilogies have weak spots, but these just keep getting better. From it's slow burn throughout the first act in order to exploit the treacherous human side, to the very well paced second act to set-up the eventual climactic battle, to the climax itself that satisfies in more ways than one, Rise of the Planet of the Apes is the exact representation of a franchise that has made itself accessible to all audiences. There is a romance aspect, a social commentary aspect, a heavily drawn dramatic aspect, and a very well spread out action-centric finale. It may be a little too basic of a film to call a masterpiece, but each time I view this movie, I find new things to love about it. Popcorn entertainment doesn't get much better than this.
Rise of the Planet of the Apes Quotes
| | |
| --- | --- |
| Dodge Landon: | Get your stinking paws off of me, you damn dirty ape! |
| | |
| --- | --- |
| Steven Jacobs: | These apes are smarter than you think. We've got to kill their leader |
| Steven Jacobs: | These apes are smarter than you think. We've got to kill their leader. |
| | |
| --- | --- |
| Caesar: | [to Will] This is my home. |
| Caesar: | [to Will] Caesar is home. |