Risen
(2016)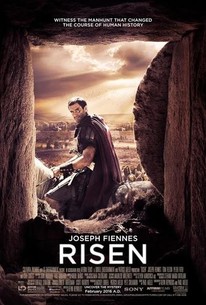 TOMATOMETER
AUDIENCE SCORE
Critic Consensus: Risen benefits from a lighter tone than many faith-based productions, as well as a unique take on the Greatest Story Ever Told and a terrific turn from star Joseph Fiennes.
Movie Info
The first forty days after the Resurrection of Jesus Christ is told through the eyes of an agnostic Roman Centurion charged by Pontius Pilate to investigate rumors of a risen Jewish Messiah and locate the missing deceased body of Jesus of Nazareth in order to subdue an imminent uprising in Jerusalem. During Centurion's mission, his doubts of such a supernatural occurrence peel away as he encounters the Apostles and other historic biblical characters and bears witness to the legendary storied events that followed the Resurrection. A great mystery unfolds during Centurion's quest to find the body and he is deeply affected by his first-person investigation, as his previous beliefs on the matter are forever altered based on what he's now witnessed.
News & Interviews for Risen
Audience Reviews for Risen
½
Risen is a powerful biblical film that takes a unique look at the Resurrection story. After putting down the latest Jewish rebellion, Roman Tribune Clavius is charged with overseeing the crucifixion of the self-proclaimed Messiah Yeshua; but things take an unexpected turn when Yeshua's body disappears from his tomb, forcing Clavius to lead an intensive search to find it in order to prevent his follows from proclaiming a miracle and inciting another rebellion that would bring down the wrath of Caesar. Starring Joseph Fiennes, Tom Felton, Peter Firth, and Cliff Curtis, the film has a strong cast that delivers some impressive performances. And, the production values are especially good; particularly the score, which is quite evocative and full of sweeping themes. Inspirational and compelling, Risen is a visionary film with a fresh new perspective on the death and resurrection of Christ.
Dann Michalski
Super Reviewer
"Risen" fails to rise to the top, but it's still a decent film for a relatively low-budget period piece. Fiennes' performance is somewhat disappointing but acting is adequate. Costumes are decent, and the locations/sets are good. Moments of good cinematography but underwhelming overall. As a full-fledged Hollywood film, "Risen" might barely merit three stars, but for what it is -- a lower-budget film from a genre mired in tripe -- "Risen" stands above the rest without quite being a savior.
Christian C
Super Reviewer
½
The usual story (doesn't everyone) know it already?) told from the point of view of a staunch unbeliever, Pontius Pilate's chief enforcer. It's better by yards over the usual drivel spilled out by these preaching-to-the-choir type of knuckleheads but I miss the passion Mel Gibson brought to this type of material. No nuance, no subtlety, no panache, no fun. And its in the writing that the fault lies. We get to watch several familiar (through telling) events and have several "I get it, but he doesn't" moments, but at no point is any attempt made to go beyond preaching, to stretch. Oy. Ultimately disappointing.
Kevin M. Williams
Super Reviewer
Risen Quotes
| | |
| --- | --- |
| Suspect #2: | Their everywhere |
| Suspect #2: | They are everywhere. |
| | |
| --- | --- |
| Clavius: | I am yet sticky with filth |
| Clavius: | I am yet sticky with filth. |