Kinyarwanda
(2011)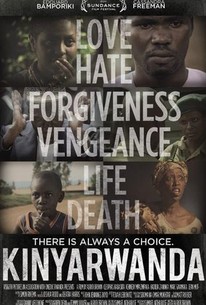 Movie Info
At the time of the 1994 Rwandan genocide, the Mufti of Rwanda, the most respected Muslim leader in the country, issued a fatwa forbidding Muslims from participating in the killing of the Tutsi. As the country became a slaughterhouse, mosques became places of refuge where Muslims and Christians, Hutus and Tutsis came together to protect each other. KINYARWANDA is based on true accounts from survivors who took refuge at the Grand Mosque of Kigali and the madrassa of Nyanza. It recounts how the Imams opened the doors of the mosques to give refuge to the Tutsi and those Hutu who refused to participate in the killing.
Critic Reviews for Kinyarwanda
Audience Reviews for Kinyarwanda
½
You can't hate a movie like "Kinyarwanda" that is so well-meaning and hopeful about the future of Rwanda. However, I really can't like a movie like this, either, that does not credibly reflect the complicated reality on the ground, instead just wishing that there will be a 'unified peace,' as one character puts it, and it will magically happen. And while I do want to believe in the best of humanity, it is hard to believe in it happening so often during one of the planet's worst moments. Just as there are brutal killings depicted here, even more often are there warm scenes of people doing the right thing, including one huge bluff to save a group of people about to be killed. And then there is the decision to go for a complicated structure of interrelated stories which is hard enough to pull off under optimal circumstances which this is not, with the best sequence being the Reeducation Camp. The best option would have been to tell a story of the Rwandan genocide through the point of view of one character, like say Jeanne(Hadidja Zaninka), whose parents are killed.
Kinyarwanda Quotes
There are no approved quotes yet for this movie.